Team embraces teamwork, tools for success




by Cindy Abole




Public Relations


For participants in the 12-week Healthy Charleston Challenge, the commitment to make consistent healthy choices and fitting in fitness is part of their daily mantra. Now midway through the program, the 80 participants are leaner, share more positive attitudes toward healthy living and, collectively, are about 976 pounds lighter.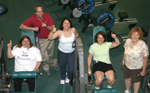 Members of the Healthy Charleston Challenge's Weight Management Team: Jan Buice, from left, Matt Harriott (trainer), Kimberly Lenhart, Laurie Zone-Smith and Mary Ann Carruthers. Not pictured: Dr. Terri Randall, Dr. Himanshu Upadhyaya and Kimber Price.



For one group, participation in the challenge already has led to healthier, transformed lives. The seven members of the MUSC Weight Management Center team are committed to their goals for weight loss success and embracing a long-term healthier lifestyle courtesy of the challenge. In January, the center organized a team to participate in the challenge.

"Every day is a conscious effort for each of us to make good, healthy choices for ourselves," said Laurie Zone-Smith, Ph.D., R.N., manager, MUHA Center for Professional Development and Clinical Education Resources and team member. "Our effort is real and heartfelt. We encourage each other every day to stay on track to a healthier lifestyle. The enthusiasm, support and friendships we've gained are my rewards."

According to Josh Brown, Ph.D., psychologist and director of clinical services, MUSC Weight Management Center, participants follow a group version of the center's Focus program. The 15-week lifestyle change program designed to induce larger initial weight loss using nutritional supplements (shakes and bars) and one food-based meal per day for the first eight weeks, later transitions to food-based meal plans to promote sustainable weight loss. Participants meet weekly to discuss nutrition, exercise and behavioral topics.

The team has official weigh-ins twice a week including the Thursday challenge official weigh-ins, plus they chart their progress daily on individual weight graphs for accountability and continuous feedback. Members also maintain a weight loss journal and e-mail weekly goals to Brown and team members.

"We provide them with the tools and practical information, plus guidance from a comprehensive team of clinical psychologists, dietitians, and exercise physiologists available to them throughout their journey," said Brown. "They're working hard and have come together as a team."

Team member, Jan Buice, was determined to succeed in her goal for weight loss.

"In the first few weeks, I was amazed at what I could do when it came to combining healthy eating with exercise," said Buice, who conducts regular workouts in the Harper Wellness Center individually and with her team and fitness trainer Matt Herriott. "I have more energy than I used to."

Herriott reassesses each team member's weekly exercise progress and physical activity via e-mail or team exercise sessions.

"Every week I preach to them how they gotta want it," Herriott said. "They've already proved to themselves that they can succeed. I'm proud of each of them for doing a great job."

The winning team will receive a prize package that includes massage therapy session from MUSC's Center for Therapeutic Massage, $100 worth of healthy meals from Meal Week, a Gold Pass for one year's free admission to Charleston County Parks and Recreations and $100 cash from Jason's Deli.


Friday, March 7, 2008
Catalyst Online is published weekly, updated as needed and improved from time to time by the MUSC Office of Public Relations for the faculty, employees and students of the Medical University of South Carolina. Catalyst Online editor, Kim Draughn, can be reached at 792-4107 or by email, catalyst@musc.edu. Editorial copy can be submitted to Catalyst Online and to The Catalyst in print by fax, 792-6723, or by email to catalyst@musc.edu. To place an ad in The Catalyst hardcopy, call Island Publications at 849-1778, ext. 201.