Former MUSC president, educator dies


Harold Rawling Pratt-Thomas, M.D., 94, former MUSC president and chairman of the Department of Pathology, died March 29.

Pratt-Thomas was born in Barnsley, Yorkshire, England on June 9, 1913. He was the son of Dorothy Parkin and Harold Pratt.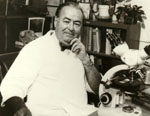 Dr. Harold Rawling Pratt-Thomas



He was a 1934 graduate of Davidson College and later received an honorary degree from his alma mater. He earned his doctorate in medicine from the Medical College of the State of South Carolina in 1938. After serving an internship and residency in pathology at the Cincinnati General Hospital, Pratt-Thomas joined MUSC's Pathology Department, where he remained for 49 years. During this time, he served as chairman of the department and dean of the School of Medicine, as well as president of the institution from 1962 - 1964.

Pratt-Thomas established the School of Cytotechnology, which was among the earliest in the nation devoted to this discipline. He was a Fellow in the American College of Physicians and Surgeons, the Medical Society of South Carolina, Alpha Omega Alpha, and was President Emeritus of the Waring Historical Library.

In addition to his devotion to family, Pratt-Thomas was a gardener and enjoyed painting, photography and an outdoorsman. He is survived by his wife, Mary (Polly) Douglas Pratt-Thomas; children and other family. Memorials may be made to St. Philip's Episcopal Church, 142 Church Street, Charleston, SC 29401 or The Waring Historical Library, P.O. Box 250403, Charleston, SC 29425.



As a student, I loved P.T.

He was very fair, gracious and understanding as it relates to students' problems in every way. I was not at MUSC when he served as president, but when I returned to serve on the Board of Trustees in 1982 he had already retired and I enjoyed seeing him at MUSC functions. I enjoyed our talks and recalling many memories. He will be greatly missed.


—Tommy Rowland, M.D., MUSC Board of Trustees





I had contact with him as a student, resident and fellow, as well as working on MUSC's Board of Trustees.

We also collaborated together in writing for the College of Medicine's AUCTUS publi-cation. As a professor, he was outstanding in his field of pathology, both as a educator and mentor. As president, he demonstrated to be a great leader and was bright and collegial. MUSC did well under his leadership.


—Conyers O'Bryan, M.D., Board of Trustees





P.T. was among the school's most outstanding teachers and loved by our medical class. He was a role model for our fraternities and organizations.

I had the privilege of working with P.T. as a former president of the MUSC Alumni Association and Board of Trustees, and admired him as a pathologist, alumnus and faculty member.


—Stanley C. Baker, M.D., Board of Trustees



My memories of P.T. goes back to my sophomore year in medical school 1957. Throughout the years, he was my teacher, mentor, colleague and friend. When I returned to MUSC in 1968 to become chairman of the psychiatry department, he and I had several visits. He was a source of great comfort to me as a very young department chairman who was wet behind the ears. His advice was always offered in a caring and humorous way. When I returned to MUSC to serve as dean of the medical school I visited with him. I asked him to give me his candid assessment of how things were going. By then, he had retired. He was wonderfully forthright in what he thought should be done. I valued his input. In a way he continued to be my teacher. This gracious manner continued even in the last several weeks when I would visit him at Bishop Gadsden. He was a great man. I will miss him.


—Layton T. McCurdy, M.D., Dean Emeritus, College of Medicine





As Dr. Pratt-Thomas was already retired when I came to the university, our opportunities for interaction unfortunately were limited.

He was kind enough to give me a copy of his memoirs. Through this book, I got a glimpse of a man who traveled far in his life, and was obviously aided on that path by a keen intellect and a wonderful sense of humor. The entire university community has lost a loyal friend and leader, and he will be greatly missed by those who follow in his footsteps.


—Ray Greenberg, M.D., Ph.D., MUSC President





I first met P.T. when I was a sophomore in medical school.

He was a superb pathologist, teacher and interesting lecturer. His legacy will focus on several successes including acquiring the library collection of the Medical Society of South Carolina to MUSC's library and subsequently, the Waring Historical Library. He also was responsible for the institution's purchase of the former Porter Military Academy campus in 1963, which included the land and three buildings—St. Luke's Chapel, Waring Historical Library and Colcock Hall which are part of MUSC's campus today.


—W. Curtis Worthington, Jr., M.D., professor emeritus, director, Waring Library




Friday, April 11, 2008
Catalyst Online is published weekly, updated as needed and improved from time to time by the MUSC Office of Public Relations for the faculty, employees and students of the Medical University of South Carolina. Catalyst Online editor, Kim Draughn, can be reached at 792-4107 or by email, catalyst@musc.edu. Editorial copy can be submitted to Catalyst Online and to The Catalyst in print by fax, 792-6723, or by email to catalyst@musc.edu. To place an ad in The Catalyst hardcopy, call Island Publications at 849-1778, ext. 201.