Surgeon remembered for compassion


Adam Todd Ross, M.D., 36, a facial plastics and reconstructive surgeon in the Department of Otolaryngology-Head and Neck Surgery, died Jan. 18 following a battle with cancer.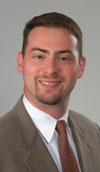 Dr. Adam Ross



Originally from New York, Ross was born Oct. 3, 1971. In 1993, he received his bachelor's degree in biology (high honors) at the University of Michigan-Ann Arbor. He went on to become an Alpha Omega Alpha Medical Honor Society graduate of Johns Hopkins University School of Medicine in 1997. By 1998, he completed a postdoctoral research fellowship at the Center for Hearing Sciences at Johns Hopkins University School of Medicine. From 1998 to 2003, he completed otorhinolaryngology and general surgery residencies at the Hospital of the University of Pennsylvania. In 2004, following a fellowship in Facial Plastics and Reconstructive Surgery at Oregon Health and Sciences University, he joined MUSC. While at MUSC, Ross established a comprehensive specialty program and served as director of the Division of Facial Plastics and Reconstructive Surgery. He also assumed several departmental leadership positions. Ross was a member of the American Academy of Facial Plastic and Reconstructive Surgery, American Academy of Otolaryngic Allergy, American Academy of Otolaryngology-Head and Neck Surgery, American Medical Association and South Carolina Medical Association.



It saddened me when I learned about Dr Ross's passing.

I worked with Dr. Ross during his time at MUSC. He worked so hard to establish a program in facial plastics and reconstructive surgery. Dr. Ross was a very kind and caring doctor as well as a great friend. He was always there for me to lend a helping hand. He was the kind of person who would take time out of his own life just to give you a listening ear. I lost a big part of my family in 2005 and Dr. Ross was so concerned about my well-being when, in fact, it should have been the other way around. At the time, I didn't know that he was facing a battle of his own. My heart and condolences go out to his wife and family. I can't tell you how much he will be missed here at MUSC.


—Maria Berry, Department of Dermatology and Facial Plastic Surgery





Adam was an extraordinarily talented surgeon with boundless energy.

It was a delight for me to be copied on the numerous accolades he received from patients, and to share vicariously in the awards he won from the administration for his dedication to patient care. The residents will miss Adam as a teacher and as a role model, and the faculty will miss him as a friend and as an example of the best in medicine.


—Paul R. Lambert, M.D., Chairman, Department of Otolaryngology, and staff





When I think of Adam, one memory floats to the top.

We were working on a story regarding a procedure that Dr. Ross did to reconstruct the malformed jaw of a baby girl in the NNICU. To allow the baby to breathe on her own, he performed a mandibular distraction, the likes of which had never been performed on a child of her size at MUSC. As we took photos of Adam and the baby, it was apparent to me how much caring for her had meant to him. His eyes shone when he talked of what he'd been able to do; I'd never doubted his skill, having seen photos of many successful surgeries, yet I was moved by the joy he felt helping just this one tiny child. Dr. Ross was an excellent facial plastic surgeon, and an even better soul. We were incredibly lucky to know and have him.


—Heather Woolwine, Media Relations Director, Office of Public Relations




Friday, April 11, 2008
Catalyst Online is published weekly, updated as needed and improved from time to time by the MUSC Office of Public Relations for the faculty, employees and students of the Medical University of South Carolina. Catalyst Online editor, Kim Draughn, can be reached at 792-4107 or by email, catalyst@musc.edu. Editorial copy can be submitted to Catalyst Online and to The Catalyst in print by fax, 792-6723, or by email to catalyst@musc.edu. To place an ad in The Catalyst hardcopy, call Island Publications at 849-1778, ext. 201.