Volunteer crusader wins diversity award




by Cindy Abole




Public Relations


Helping students realize their potential of service to the community and volunteering is the everyday goal of Margaret Liz Sheridan. Sheridan, director of the MUSC Gives Back Program, was selected as the 2008 Earl B. Higgins Achievement in Diversity Award winner.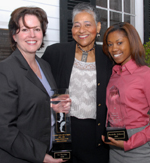 LaValle Higgins, widow of Dr. Earl B. Higgins, center, presents Liz Sheridan, left, and Daschelle Johnson with their awards April 2.



Known for her tireless commitment to students, Sheridan was chosen for this year's award, which celebrates an individual on campus who promotes equity and diversity in every aspect of work and service and diverse learning.

Sheridan is the 13th recipient of this award, which is presented to MUSC employees. It was established in 1995 in tribute to Higgins, who was director of affirmative action and minority affairs at MUSC, and a champion for minority recruit-ment, retention and enrichment programs. Higgins died Aug. 30, 1992, while in service to MUSC. Other nominees for the award include John J. Sanders, DDS, dean, College of Dental Medicine; James S. Krause, Ph.D., associate dean for clinical research, College of Health Professions; and Andrew S. Kraft, M.D., director, Hollings Cancer Center.

In 1993, Sheridan helped establish the campus' community volunteer program, MUSC Gives Back, which matched student volunteers from the College of Medicine to support area service and volunteer needs around the community. Now a universitywide program, MUSC Gives Back links students to more than 2,700 events and projects supporting Tri-county area non-profit agencies and outreach programs. For the 2006-2007 academic year, Sheridan helped 859 student-volunteers, representing each of MUSC's six colleges, log 12,467 hours of community service by responding to the needs of 166 agencies. Since its inception, Sheridan has guided 5,255 students to provide 157,601 volunteer hours in the Lowcountry community.

"Liz has always appreciated the fact that service projects are prime opportunities for students of all diversity to come together and get to know and appreciate each other while working towards a common good," wrote Robin Hardin, Student Programs director, in her nomination letter. "She deserves so much credit for the wealth of service and pride that she has facilitated for our students, administration and community."

Since 2006, Sheridan has coordinated the campus' efforts to promote collaboration, diversity and interprofessional interaction through campuswide community service projects such as the World AIDS Day celebration and Martin Luther King, Jr. Not a Day Off but a Day On Health Information Fair at Our Lady of Mercy on John's Island. On Feb. 2, she helped students coordinate a health information fair and children's expo promoting the benefits of good health and exercise at Fraser Elementary School as part of the 2008 MLK service project.

Each December, Sheridan coordinates the campus' holiday lighting event celebrating Christmas (Christmas tree), Hanukkah (Menorah candle), Kwanza (Kwanza candle) and a visit with Santa Claus linking MUSC students with Lowcountry children. She is a multiple winner of the Golden Apple Award, presented by College of Medicine students.

Last April, Sheridan received the South Carolina Association for Volunteer Administration and the S.C. Governor's Office's 2006 Annual Governor's Volunteer Administrator of the Year Award for her dedication to community service and volunteering.



Student celebrated in leadership award


Third-year College of Pharmacy student Daschelle L. Johnson has demonstrated leadership and an exceptional level of service through-out her time at MUSC. Her outgoing personality, compassion for others and commitment helped distinguish her as the Earl B. Higgins 2008 Student Leadership in Diversity Award winner.

Born in Brooklyn, N.Y. and raised in Columbia, Johnson has always liked to be active and involved with activities outside the classroom. She was able to do more of it as a pre-pharmacy student at the University of Georgia and beyond.

Starting at MUSC in 2005, Johnson has been more active and enjoyed leadership roles with the Student National Pharmacists Association (SNPhA), Phi Lamda Sigma National Leadership Society, Phi Delta Chi Pharmacy Fraternity, South Carolina Pharmacy Association and the Academy of Student Pharmacists. Through SNPhA, she is focused on developing a positive image for minority health professionals and promoting health awareness on campus and in the community.

Johnson also served as chapter vice president and secretary with the MUSC Student Government Association and member of the Multicultural Student Advisory Board. Other community service include: the Harvest Free Medical Clinic, BET Foundation Women's Health Symposium, National Pharmacy Week, Martin Luther King Jr. Health Expo, Charleston Ronald McDonald House, World Aids Day, plus other activities.

"Dachelle is an outgoing, poised and politely assertive individual who has made a positive impact at our college, the university and community at large," wrote Steve Brown, assistant dean for Student Affairs, S.C. College of Pharmacy-MUSC Campus. "She approaches all challenges with a positive attitude and a genuine sensitivity to the feelings and opinions of others."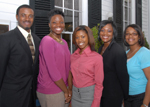 The Earl B. Higgins Scholarship recipients are Antuan Herriott, from left, Chakosha Lance, Dachelle Johnson, Mia Barron and Portia Cohen. Not pictured is Joy Jones.



Fellow student Jonathan Jones also praised Johnson's efforts in his nomination letter.

"Dachelle serves as a role model for her classmates and many young women," Jones said. "By striving for excellence, Dachelle's goal is to make paths easier for those who follow her. She participates in many activities that help to promote diversity on campus and is extremely deserving of this award."

Previous student recipients of this award include Alex Whitley, Ph.D., and Aaron E. Embry.

Another student nominee was Vandy T. Gaffney, a second-year College of Medicine student. Gaffney was nominated by Jeff Wong, M.D., senior associate dean for medical education, College of Medicine.



Earl B. Higgins Achievement in Diversity Award Committee


Walker Coleman, chair; Willette Burnham; Thaddeus Bell, M.D.; Gwendolyn Brown, DMD; Tom Smith, Ph.D.; William Spring; Steve Brown; Cynthia Wright, Ph.D.; Sharon Mazyck; Ed Cousineau; Mardi Long; C. Libby Dismuke, Ph.D.; Michael deArellano, Ph.D.; Joseph Brown; Jerry Reves, M.D.; and Lucille Skaggs.



Friday, April 11, 2008
Catalyst Online is published weekly, updated as needed and improved from time to time by the MUSC Office of Public Relations for the faculty, employees and students of the Medical University of South Carolina. Catalyst Online editor, Kim Draughn, can be reached at 792-4107 or by email, catalyst@musc.edu. Editorial copy can be submitted to Catalyst Online and to The Catalyst in print by fax, 792-6723, or by email to catalyst@musc.edu. To place an ad in The Catalyst hardcopy, call Island Publications at 849-1778, ext. 201.