Alhambra 2008


More than 600 students, staff and faculty soaked up the sun at this year's Alhambra festival, a universitywide student event organized by the Student Government Association. This year's theme was "Life's A Beach" and was appropriately held at the Isle of Palms Windjammer. The April 12 festivities included barbeque and other picnic food, refreshing beverages, children's activities, and recreational competitions. Live music by Dangermuffin and The Movement also entertained the crowd. Alhambra has been an MUSC tradition since 1953, the year a student welfare committee decided a spring function would be a great way for students and their families to socialize off campus. The original site of the informal gathering was Mount Pleasant's Alhambra Hall.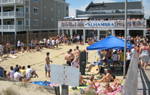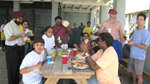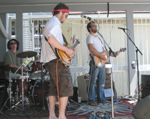 Friday, April 18, 2008
Catalyst Online is published weekly, updated as needed and improved from time to time by the MUSC Office of Public Relations for the faculty, employees and students of the Medical University of South Carolina. Catalyst Online editor, Kim Draughn, can be reached at 792-4107 or by email, catalyst@musc.edu. Editorial copy can be submitted to Catalyst Online and to The Catalyst in print by fax, 792-6723, or by email to catalyst@musc.edu. To place an ad in The Catalyst hardcopy, call Island Publications at 849-1778, ext. 201.