Pearlstine Healing Garden endowed with $1M gift


MUSC's Hollings Cancer Center dedicated the Edwin and Barbara Pearlstine Healing Garden April 11. The healing garden, designed by Robert Chesnut, was endowed with a $1 million gift from Edwin S. Pearlstine Jr. in memory of his wife of 40 years, Barbara Langer Pearlstine, who died of cancer in 1997.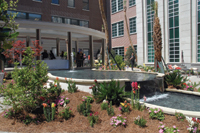 "Edwin and Barbara Pearlstine will forever be known in this city and at MUSC as true exemplars of philanthropy," said MUSC President Ray Greenberg, M.D., Ph.D. "We are thankful to Edwin Pearlstine for this incredibly generous gift in memory of Barbara. This garden will provide special comfort to our patients for many years to come."

Charleston Mayor Joseph P. Riley Jr. read remarks sent by John E. Neiderhuber, M.D., director of the National Cancer Institute (NCI). Niederhuber was scheduled to speak at the dedication ceremony but was detained in Washing-ton. The Hollings Cancer Center (HCC) is an NCI-developing center and will apply for designation in May. The ceremony also celebrated the completion of the cancer center's new seven-story addition.

A nationally renowned surgeon and researcher, Niederhuber has dedicated his four-decade career to the treatment and study of cancer—as a professor, cancer center director, National Cancer Advisory Board chair, external advisor to the NCI, grant reviewer, and laboratory investigator supported by NCI and the National Institutes of Health.

"It is a privilege to recognize this generous gift from Edwin Pearlstine in memory of his wife, Barbara," said HCC director Andrew S. Kraft, M.D. "Hollings Cancer Center endeavors every day to provide our patients with the very best in cancer care and therapies. We hope that in the beauty of this garden, they will be able to find an added measure of healing and solace."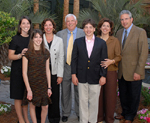 Edwin Pearlstine, center, celebrates the opening of the Hollings Cancer Center's new healing garden with family Amy Foster, from left, Halle Lipov, Susan Pearlstine, Win Lipov, Jan Lipov and Larry Lipov.



Pearlstine, a Charleston native, has made his mark on the city many times with his business acumen and philanthropy. Under his leadership, the family business, Pearlstine Distributors, became one of the largest privately-owned businesses in the region. He also is part owner of the South Carolina Stingrays. In 2002, MUSC awarded Pearlstine the honorary degree of Doctor of Humane Letters; and he is a member of the MUSC Society of 1824 for his gift in creating the healing garden.

"I know that patients and their families are going through a terrible ordeal," Edwin S. Pearlstine Jr., said. "If the healing garden can give them some comfort it will be well worth my commitment."


Friday, April 18, 2008
Catalyst Online is published weekly, updated as needed and improved from time to time by the MUSC Office of Public Relations for the faculty, employees and students of the Medical University of South Carolina. Catalyst Online editor, Kim Draughn, can be reached at 792-4107 or by email, catalyst@musc.edu. Editorial copy can be submitted to Catalyst Online and to The Catalyst in print by fax, 792-6723, or by email to catalyst@musc.edu. To place an ad in The Catalyst hardcopy, call Island Publications at 849-1778, ext. 201.