Techs are critical component of medicine




by Mary Helen Yarborough




Public Relations


Mary Roberts must be perfect in her job as a histotechnologist. Like her colleagues, she has only one chance to get it right—preparing tissue samples harvested during surgery or an autopsy.

A pathologist relies on histo-technologists like Roberts whose performance makes proper diagnosis possible, or helps determine whether an organ is suitable for transplantation.

A 22-year veteran in the field, Roberts is among an elite group of professionals who work anonymously in the precision-stressed field.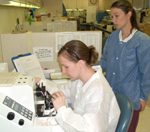 Histology student Julie Heape cuts thin slices of tissue from an autopsy as her instructor Yuriko Bolig observes.



"The pressure is on the histology technologist. There is no margin for error," said Vinnie Della Speranza, manager of MUSC Anatomic Pathology Services. "The tissues they get are irreplaceable, because they are taken during surgery, and in many cases it involves cancer. It's not like a routine blood test sample that your doctor can order again."

Jim Madory, DO, referred to the minuteness of the samples that histologists must provide.

"Histotechnologists play a critical role in the diagnosis of pathologic specimens," said Madory, medical director of Laboratory Informatics. "By taking the specimens from the formalin fixed cassettes and carefully embedding them in paraffin wax, it is their challenge to make sure that the three-dimensional piece of tissue in the cassette is correctly represented on a glass slide. After the embedding process is completed, careful sectioning of the paraffin-embedded blocks to produce thin, clear sections, without wrinkles or tears is of critical importance so that the pathologist can make accurate diagnoses.

"We are very fortunate at MUSC to have the staff we do in our histology and immunochemistry laboratory. They are an excellent team and perform very well, day in and day out, to get through the large number of blocks that they must prepare and section every day," Madory said.

But the pool of professionals needed to perform these tasks is shrinking, Della Speranza said, and the demand for them at MUSC is so high that many of the lab technologists are traveling, or contract temporary, employees.

To address the shortage, Della Speranza in 2004 started a histology program at MUSC, which is one of only three in the country. Students in the post-baccalaureate program will pay $1,800 a year and study 9 a.m. to 4 p.m. weekdays for a year. When they graduate in September, they are eligible to sit for the national certification exam.

Of the 11 students trained at MUSC, only one has failed to obtain certification. "That speaks to the quality of our program; and it proves we are providing them with the right training," said Della Speranza, education coordinator for the program.

Once they are certified, their salary will range from almost $40,000 to the $70,000 range when they become seasoned or attain managerial status.

This year's class has two students, including Julie Heape, a California native now living in Walterboro. She learns alongside seasoned professionals in the labs slicing tissue, preparing samples in media for further study. Her instructor is Yuriko Bolig, who graduated from the program in 2005.

"We do a whole array of tissue cutting here. The histologists must do their job perfectly," Bolig said. "We do all MUSC's autopsies as well as all of the ones referred to us, including those from forensic cases."

To highlight the field and stress the importance of technologists, MUSC also is participating in the 33rd Annual National Medical Laboratory Week, April 20-26.

Della Speranza, who is president of the National Society for Histotechnology, said he is hopeful that MUSC can retain more of the students it trains.

Meanwhile, MUSC's medical technology labs rely on a joint venture with the South Carolina Hospital Association and Armstrong Atlantic State University in Georgia to fill widespread lab position openings. No colleges in South Carolina have laboratory science programs.

Donna McClellan, director of laboratory services, has championed a program that has both boosted technologist pay and retention rates for those trained on the job at MUSC.

"We continue to collaborate with the VA and Trident regional hospitals to provide the student labs with one of our staff as instructor," McClellan said. "Our hope is to expand the number of students we are able to accommodate to three or four per year."

Students in the lab sciences can qualify to have their tuition paid by MUSC as long as they agree to work at MUSC for at least two years. "These students are citizens of South Carolina, which will help with retention," McClellan said.

Della Speranza said that he is working on a plan to retain more of MUSC's histotechnology graduates.


Friday, April 18, 2008
Catalyst Online is published weekly, updated as needed and improved from time to time by the MUSC Office of Public Relations for the faculty, employees and students of the Medical University of South Carolina. Catalyst Online editor, Kim Draughn, can be reached at 792-4107 or by email, catalyst@musc.edu. Editorial copy can be submitted to Catalyst Online and to The Catalyst in print by fax, 792-6723, or by email to catalyst@musc.edu. To place an ad in The Catalyst hardcopy, call Island Publications at 849-1778, ext. 201.