College of Nursing faculty awarded Palmetto Gold


The South Carolina Nurses Foundation (SCNF) has announced the recipients of the 2008 Palmetto Gold Award. The following MUSC College of Nursing faculty members were recognized at the annual Palmetto Gold Gala April 19 at Seawell's Banquet and Convention Center in Columbia:

Nancy Duffy, R.N., is an assistant professor in the College of Nursing and director of undergraduate programs at MUSC. Duffy was named the Governor's 2007 Professor of the Year for four-year institutions of higher education. She has been with the university since 2004.
Marilyn King, DNSc, R.N., is an associate professor in the College of Nursing. King has been with the university since 1999, where she teaches courses in community/population health in the baccalaureate and master's programs, and knowledge development at the doctoral level.
Sheila Smith, Ph.D., R.N., is an assistant professor in the College of Nursing. Smith's clinical expertise involves the care of women across the lifecycle. She has extensive clinical experience in high-risk antepartum and intrapartum nursing. She has been at the college since 2003.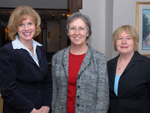 Palmetto Gold winners are Drs. Nancy Duffy, from left, Marilyn King and Sheila Smith.



This recognition program honors nurses who have demonstrated excellence in the practice of nursing and a commitment to their professions. Of its full-time College of Nursing faculty, 74 percent have received the South Carolina Palmetto Gold Award for Nursing Excellence.

The Palmetto Gold Award is an annual statewide nursing recognition program that showcases the valuable contributions nurses make to patient care in South Carolina. The program also raises funds to endow scholarships for registered nurse students.

The South Carolina Nurses Foundation, a 501-C-3 corporation, provides the vehicle through which donations to the Palmetto Gold scholarships are received and invested.

The mission of the foundation is to advance the profession of nursing in South Carolina through awards, grants and scholarships. Established in 1974, SCNF is one of the oldest nursing endowments in the country and continues in its charitable, scientific, literary and educational role.



Friday, April 25, 2008
Catalyst Online is published weekly, updated as needed and improved from time to time by the MUSC Office of Public Relations for the faculty, employees and students of the Medical University of South Carolina. Catalyst Online editor, Kim Draughn, can be reached at 792-4107 or by email, catalyst@musc.edu. Editorial copy can be submitted to Catalyst Online and to The Catalyst in print by fax, 792-6723, or by email to catalyst@musc.edu. To place an ad in The Catalyst hardcopy, call Island Publications at 849-1778, ext. 201.