Dog eases feelings of loss in elderly patients




by Mary Helen Yarborough




Public Relations


When Maggie makes her rounds in the Institute of Psychiatry, her gentle presence brightens days darkened by loss and depression among patients being treated in the Senior Care Unit.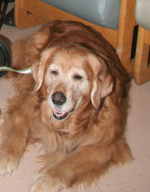 Maggie visits patients in the Institute of Psychiatry as part of a senior care therapy program. The golden retriever, rescued from a shelter, has been rehab trained by Daana Potter (Doug Potter's wife).



Maggie does not talk, or bark, at the infirmed, most of whom suffer from severe mood disorders. The 12-year-old golden retriever just lets them pet her no matter how rough or timid. The plump pooch doesn't even mind if they confuse her for another pet from years ago.

"We have folks with dementia that when they see the dog, it evokes pleasant memories and feelings they had," said Michael Hartley, nurse manager in the former Behavioral Intensive Care Unit.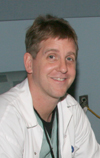 Dr. Doug Potter



Maggie, of course, is a therapy dog; completely trained, vetted, certified and cleared by the S.C. Department of Health and Environmental Control (DHEC). She belongs to Doug Potter, Ph.D., a lead therapeutic assistant in the 10-bed unit.

Maggie has been on duty in IOP for about three months. She works days and nights, providing patients with tactile stimulation, which is proven to help soothe or reduce symptoms of depression, high blood pressure and stress.

"Depression and other mood disorders are germane among elders, and the effect Maggie has on patients can be amazing," Hartley said. "You can see an immediate calming effect in patients who are depressed or agitated. The stress reduction also has a cumulative effect."

As studies have demonstrated that people with pets tend to be happier, live longer, and suffer fewer illnesses, patients such as those in the inpatient psychiatric unit also respond with similar improvements.

"The use of the therapy dog is not for treating the illness, but it is treating a symptom of an illness," Hartley explains.

Maggie is not the first therapy dog to be used in the unit, and she likely will not be the only dog used by IOP therapists. Hartley said plans call for the therapy dog to be assigned to 3 North, an adult psychiatric unit. She also works in the new Seasons outpatient clinic that treats ambulatory patients with depression or thought disorders. For three years, Maggie has visited patients in area nursing homes, Potter said.

Therapy dogs, meanwhile, play an important role in helping calm and lift patient's spirits in other areas of the hospital, notably the Children's Hospital.


Friday, April 25, 2008
Catalyst Online is published weekly, updated as needed and improved from time to time by the MUSC Office of Public Relations for the faculty, employees and students of the Medical University of South Carolina. Catalyst Online editor, Kim Draughn, can be reached at 792-4107 or by email, catalyst@musc.edu. Editorial copy can be submitted to Catalyst Online and to The Catalyst in print by fax, 792-6723, or by email to catalyst@musc.edu. To place an ad in The Catalyst hardcopy, call Island Publications at 849-1778, ext. 201.