Healthy challenge transforms many lives




by Cindy Abole




Public Relations


MUSC's Harper Wellness Center completed its own dose of reality drama with the healthy lifestyle program and weight loss competition called the Healthy Charleston Challenge (HCC). Its result was the loss of an astounding 1,500.6 total pounds in weight loss and the gain of healthy, lean and confident ambassadors of health and wellness around the Lowcountry.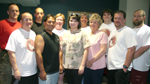 Marine trainers Sgt. Ben McKee and Lt. Anthony Girodino led the MUSC Boot Camp team to lose 249.6 pounds. Members are Pat Wagstaff, Greg Shore, Karen Juhn, Steve Walker, David Winchell, Grady Burton, Amber George, Charilla Barham and Alan Cabading.



The program ended March 27 when all 80 participants celebrated as champions in a courageous 10-week weight loss journey that challenged and motivated them toward better health, higher self esteem and incredible transformations.

The idea was the brainchild of Harper Wellness Center program director Janis Newton, who envisioned the idea for years and developed it from the hit reality television show, The Biggest Loser.

Winners were determined in multiple categories: MUSC Boot Camp, team with the best total percentage of body weight lost by its members; Grady Burton, MUSC Boot Camp, individual with top total weight lost and individual with top percentage of body weight lost.

"Working on the challenge reinforced what health professionals have learned over the years—that it's a lifetime commitment and part of our everyday lives ," said Newton, who has taught exercise and fitness for more than 25 years. "Our participants had the will within themselves to overcome barriers and do this and ultimately affect their health—improved blood pressure, cholesterol, triglycerides, etc."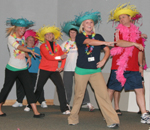 Healthy Charleston Challenge intern Stacey Backstrom, front center, leads members of the Marine Repair Services team through a dance routine as part of the March 27 finale.



The challenge involved 11 teams in a 10-week weight loss journey aimed at promoting exercise and activity and healthy eating to lose weight. Teams were formed, some from sponsoring businesses, to compete in the challenge. They were: Access Healthcare, Center for Therapeutic Massage, Charleston Parks and Recreation, Marine Repair Services, Meal Week, American Cancer Society, Sportsman's Shop, Weight Management, Jason's Deli, Anderson Insurance Associates, and MUSC Boot Camp.

Newton created the program in response to the Healthy SC Challenge, a result-oriented initiative established in 2005 by Gov. Mark Sanford and first lady Jenny Sanford. The program focuses on raising awareness to fight obesity and chronic disease while promoting active, healthier lifestyles among all South Carolinians.

A 2004 U.S. Health and Human Services Agency Study ranked South Carolina No. 46—one of the unhealthiest states in the country.

Newton was among many people who wanted to change these statistics and did. According to the HCC statistics, all participants in the challenge lost weight or recorded a loss of percentage of body weight. A total of 32 people lost 20 or more pounds; 53 people, 15-plus pounds; 66 people, 10-plus pounds and 78 people, 5-plus pounds.

"I envisioned a program that could help people learn to accept and deal with changes in their lives," Newton said. "The program's goal was to create an exercise and nutrition program that focused on accountability and teamwork education provided in a supportive environment with trained experts and role models to help people achieve success."

Each team was managed by a Healthy Challenge personal fitness trainer and team-appointed captain. The groups also had access to professional support from a registered dietitian (Judith Herrin), clinical psychologist (Josh Brown, Ph.D.), trainer (James Johnson), and other specialists. Teams participated in the weekly weigh-ins, educational lectures and scheduled group fitness activity held at the Harper Wellness Center. Challenge participants were given a temporary Wellness Center membership to use throughout the program.

"Giving each individual this level of support, accountability to their team members and making it a competition is what made this program a huge success," Newton said.

As winners of the inaugural challenge, each of the MUSC Boot Camp team received a Gold Pass membership (good for one year) at Charleston County Parks and Recreation; $100 worth of healthy meals cooked by Meal Week, Center for Therapeutic Massage gift certificate and $100 cash (compliments of Jason's Deli).

Other top HCC winners include: (top weight loss) Bill Lachiotte, Center for Therapeutic Massage, 35 pounds; Pat Wagstaff, MUSC Boot Camp, 34 pounds; and Mary Ann Carruthers, Weight Management Center, 33.6 pounds; (Individuals with the top percentage body weight loss) Laurie Zone-Smith, Weight Management Center, 16.26 percent; Alan Cabading, MUSC Boot Camp, 15.66 percent and John Seaman, Jason's Deli, 15.34 percent.

As a follow up, more than half of the HCC participants have enrolled in the eight-week maintenance program, which allows individuals to continue in weekly weigh-ins, nutritional/fitness lectures and temporary use of the Wellness Center facility to help meet and maintain their wellness goals.

For information on the challenge, call 729-4141.



Boot Camp team mates ride success of fitness, diet challenges


Boot Camp team members Grady Burton and Dave Winchell couldn't believe their weight loss and the renewed confidence they gained as participants in the Healthy Charleston Challenge.

Winchell, 39, shed 24 pounds during the 10-week period. Burton, 23, lost 52 pounds and 16.7 percent of total body fat lost, gaining the program's title as the biggest loser.

Both men struggled with their weight and wanted to do something about it. In the past, they attended MUSC's Boot Camp sessions and were encouraged to participate in the challenge.

"I thought it would be a great experience," said Burton, who lives in West Ashley. "I knew that accountability, especially with as a team, would lead to success. Each of us were committed and that we were doing this as a team."

The group relied on food diaries, fitness and calorie tracking via Web sites, team workouts (mostly twice-a-day), plus the guidance and coaching from U.S. Marine Corps' Sgt. Ben McKee and 2nd Lt. Anthony Giordino, from the Citadel's Department of Health, Exercise and Sports Science program.

"The experience changed my whole outlook on exercise and the way I thought about food. Food can be relaxing and comforting, but now I look at it with a different perspective. I've learned how to value my choices with food and how each morsel provides me with the energy I need to complete my next activity or task, " said Winchell, who credits his wife, family and friends in his success.

In addition to learning about nutrition and food choices, Burton, Winchell and their seven team mates were physically and mentally pushed to perform beyond their expectations. Both admit they are not strong natural runners, but thanks to a lot of practice and team encouragement they adopted running as part of their daily exercise routine and successfully ran in the Annual Cooper River Bridge Run—crossing the finish line together with teammate Greg Shore.

"Crossing that finish line was an incredible moment for me," said Burton. "I felt the rush of all of those hours spent training, hard work and sacrifices over the last few months and felt great. I experienced a genuine feeling of pride and accomplishment."

Today, Burton, Winchell and a majority of the Boot Camp team continue to meet and work out regularly at the Wellness Center and other designated locations. Each continues to maintain a food journal, record in their activity logs and e-mail members. The team created their own weight loss competition among themselves and continue to support each other in their renewed personal goals. They feel the experience has helped them gain lifelong friendships.

Asked what advice he'd share with any individual trying to lose weight or starting a new activity, Burton said, "Take the first step. Find someone you can work out with and be accountable to and just do it."



Friday, April 25, 2008
Catalyst Online is published weekly, updated as needed and improved from time to time by the MUSC Office of Public Relations for the faculty, employees and students of the Medical University of South Carolina. Catalyst Online editor, Kim Draughn, can be reached at 792-4107 or by email, catalyst@musc.edu. Editorial copy can be submitted to Catalyst Online and to The Catalyst in print by fax, 792-6723, or by email to catalyst@musc.edu. To place an ad in The Catalyst hardcopy, call Island Publications at 849-1778, ext. 201.