Meet...Jennifer
Name:

Jennifer Young.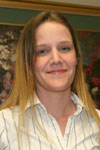 Department: Department of Medicine, Division of Gastroenterology and Hepatology.
How long at MUSC:

4 years.
Hometown:

I was a military brat, so I have lived everywhere. I went to high school in the mountains of Pennsylvania.
Current CD playing in your car:

Tool.
First job:

A telemarketer at MBNA America.
Pet peeve:

People who don't smile back at you in the hallway.
Item you must have in the refrigerator:

Iced tea.
Fondest childhood memory:

Riding dirtbikes with my dad.
Toughest challenge you have faced this year:

Paying off my debt.
Something people don't know about you:

I have gone to 11 different schools, three of them in the first grade.
Accomplishment you are most proud of:

Graduating college on the dean's list and moving to South Carolina on my own.
Something your mother has always told you:

God answers all prayers, some with a yes and some with a no. He is always listening.
Something you tried once and will never do again:

Live in Pennsylvania.
Someone famous you would like to meet:

Steven Tyler from Aerosmith.
Friday, April 25 2008
Catalyst Online is published weekly, updated as needed and improved from time to time by the MUSC Office of Public Relations for the faculty, employees and students of the Medical University of South Carolina. Catalyst Online editor, Kim Draughn, can be reached at 792-4107 or by email, catalyst@musc.edu. Editorial copy can be submitted to Catalyst Online and to The Catalyst in print by fax, 792-6723, or by email to catalyst@musc.edu. To place an ad in The Catalyst hardcopy, call Island Publications at 849-1778, ext. 201.