Professional group recognizes dean, student


An organization that promotes higher education for minorities has recognized Jerry Reves, M.D., for supporting and ensuring equal opportunity and achievement for minority students at MUSC.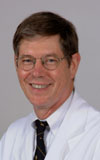 Dr. Jerry Reves



Reves, College of Medicine dean, is the first MUSC dean and second MUSC official to receive the leadership award from the S.C. Professional Association for Access and Equity (SCAAE).

The annual award is presented to a college or university president, dean or chancellor in higher education who demonstrates outstanding commitment and support in creating an environment that promotes access to equity in higher education.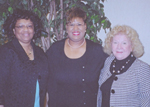 Nominators Angie Anderson, left, and Lucille Skaggs, right, with Latecia Abraham March 20.



Meanwhile, Latecia Abraham, a third-year doctoral student in the College of Health Professions, was awarded the annual graduate SCPAAE scholarship. The Charleston native and Winthrop University graduate, also is employed at MUSC as a public information and community outreach coordinator in the Department of Library Science and Informatics.

"It was an honor to be presented with this scholarship," said Abraham, who is seeking her doctorate of health administration.

The awards were presented March 20 in Spartanburg. Lucille Skaggs, COM student program manager, accepted the award for Reves.

Skaggs said the primary purpose of SCPAAE is to award scholarships to deserving and promising minority students such as Abraham. Skaggs, an SCPAAE charter member, added that Reves' commitment and efforts have opened doors previously closed to minorities.

"Dr. Reves has an open-door policy and students feel comfortable going to the dean's office to discuss any concerns with him," wrote Skaggs in her nomination of Reves. "The minority students especially describe the dean's office as 'a welcoming and supportive environment.' Dr. Reves has been very supportive of the Student National Medical Association, which comprises mostly of minority medical students at MUSC."

Reves, who in 2007 won the Earl B. Higgins Achievement in Diversity, has provided financial and administrative support to MUSC's Student National Medical Association (SNMA). He also has supported SNMA's community service activities such as the Bone Marrow Drive, Blood Drive and Student Mentoring programs.

In 2006, he played a vital role in the SNMA's regional meeting in Charleston that attracted medical students from the Southern region, and he has attended SNMA national meetings where he presents and recruits minority students to MUSC.

"Dr. Reves' example as a leader has impacted the student relations within the COM," Skaggs said. "The minority medical students are fully integrated within the medical student body, and they serve on several committees within the COM, and they have held major class offices such as vice president and secretary.

"Dr. Reves' systematic way of evaluating departmental diversity efforts is, in part, directly responsible for the great strides that the COM has made in the area of diversity," said Skaggs, who has been with MUSC for 39 years. "When Dr. Reves joined MUSC in 2001, there were only 16 under-represented minority resident/fellows. Today, there are 36 under-represented minority residents/fellow physicians."

The number of under-represented minority faculty members now is 57, more than twice the number represented in 2001.

"During the past five years, under Dr. Reves' leadership, the number of under-represented minority students entering the first year COM class has increased from 11 percent to 21 percent of the matriculating class," the SCAAE said in awarding Reves.

As a result of his work, "the face of MUSC faculty and house staff has noticeably changed," Skaggs added. "When visitors come to MUSC and walk the corridors or ride the elevators, they notice more individuals of color among the physician staff and the COM administration."



Friday, April 25, 2008
Catalyst Online is published weekly, updated as needed and improved from time to time by the MUSC Office of Public Relations for the faculty, employees and students of the Medical University of South Carolina. Catalyst Online editor, Kim Draughn, can be reached at 792-4107 or by email, catalyst@musc.edu. Editorial copy can be submitted to Catalyst Online and to The Catalyst in print by fax, 792-6723, or by email to catalyst@musc.edu. To place an ad in The Catalyst hardcopy, call Island Publications at 849-1778, ext. 201.