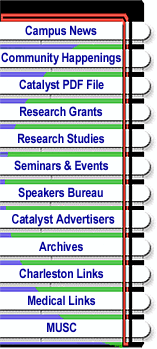 Ball, silent auction celebrate fun, giving


MUSC's 21st Annual Charity Ball was a success as more than 600 MUSC students, faculty, staff and guests attended the March 1st festivities held for the first time at the Omar Shrine Convention Center in Mount Pleasant.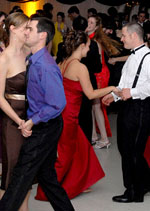 Attendees enjoy dancing and the lively music of the band, Permanent Vacation. For information and photos, visit

http://www.musc.edu/charityball/index.html.

Participants danced to live music provided by Permanent Vacation, and dined on heavy hors d'ouevres from the Point Grill Restaurant.

Each year, students play an integral role in the Charity Ball planning. The event was presented by two student groups, the Medical Student Alumni Council and College of Medicine Student Council. Members of the Student Council helped plan and organize the event and ad sales for the event, while Alumni Council members coordinated the silent auction to benefit six Lowcountry charities: The CARES (Comm-unity Aid, Relief, Education and Support) Clinic; Charleston Area Thera-peutic Riding; Crisis Ministries; East Cooper Meals on Wheels; Lowcountry Food Bank; and Rise Up and Read. Proceeds from the auction will be presented to the six charities in a luncheon scheduled for April 18.


"The students worked so hard to make everything come together and be successful," said Candace Gillespie, director of student services in the College of Medicine and Charity Ball director. "Although we held this year's event in a new venue (Omar Shrine Center), everyone took the change in stride and chipped in to get everything just right. I'm very proud of each of them and their efforts."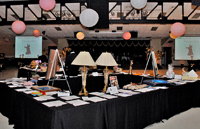 The auction began at 8 p.m. and concluded with a staggered closing at 10:30 p.m. to determine the winning bids. This year, students collected a record number of 400-plus donated items for the silent auction. Items included event tickets, artwork and home décor to vacations and gift certificates for fine dining, sports and personalized services.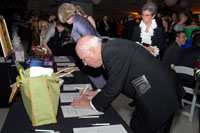 Dr. H. Biemann Othersen Jr., Department of Surgery, places his bid on an item during the auction. "I'm impressed with how the event gets better every year," said Othersen. "Students are able to build upon each previous class' success and the event gives them a good sense of giving back to the community." This year's event featured donated items from businesses and individuals.



The event recognized more than two dozen benefactors, which included medical school alumni and faculty and friends of the university. Display ads from 15 university departments and 10 student groups were placed in the 68-page 2008 Charity Ball program. Organizers also thanked other event donors including Pearlstine Distributors, Southern Wine & Spirits and Coca Cola.



2008 Student Council Co-Chairs


Marcie Dorlon, Margaret Lewis, Rob Jensen, Amanda Shepherd, Hannah Bosdell and Jarrett Walsh



2008 Medical Student Alumni Council Co-Chairs


Ben Cobb, Tressa Levenson, Neal Shelley and Sarah VanZant


Friday, April 4, 2008
Catalyst Online is published weekly, updated as needed and improved from time to time by the MUSC Office of Public Relations for the faculty, employees and students of the Medical University of South Carolina. Catalyst Online editor, Kim Draughn, can be reached at 792-4107 or by email, catalyst@musc.edu. Editorial copy can be submitted to Catalyst Online and to The Catalyst in print by fax, 792-6723, or by email to catalyst@musc.edu. To place an ad in The Catalyst hardcopy, call Island Publications at 849-1778, ext. 201.