MUSC Excellence at the medical center
Employees recognized for job well done




Service: Serving the public with compassion, respect and excellence




Standard of Behavior for April: Focus on Solutions


I will support a culture that finds solutions, rather than one that makes excuses or blames others.
--supports a productive use of our time and energy
--changes our culture by moving us away from repetitive excuses and towards a solution that addresses and solves the problem
--connects with the other standards
--I will be a team player and remove the phrase, "it's not my job," from my vocabulary
--I will work collaboratively to help others
--I will be proactive in identifying opportunities for individual growth and department improvement
--I will promote cooperation between colleagues/departments



Benefit for April: Health 1st worksite screenings


MUSC Health 1st Wellness program has planned five worksite health screenings during 2008. Subscribers of the State Health Plan (Standard and Savings Plans), BlueChoice/Companion, Cigna, and MUSC Options have the opportunity to receive a thorough preventive health screening at MUSC. This screening, a $200 value in most health care settings, will be available for a $15 co-payment. Insurance pays the rest.

Employees without this insurance can participate for a $38 fee. Insurance allows for one worksite screening for $15 per calendar year (January-December).

Anyone wanting to register for these currently scheduled screenings can do so by going to the Health 1st site at http://www.musc.edu/medcenter/health1st. The next screening will be held April 24 at Harborview Office Tower.

To schedule a screening at your worksite, have a contact person in your work area contact the Health 1st program office when you can get at least 25 employees to commit to participate in a screening (up to 100 employees can participate). The contact person will also need to help Health 1st find a space suitable for the screening. To learn more about the screenings, go to http://www.eip.sc.gov/publications/screeningquide2008.pdf. To schedule a worksite screening, contact Annie Lovering at 792-1245 or loverina@musc.edu.



People: Fostering employee pride in the workplace




March DAISY (Diseases Attacking the Immune System) Award winner



Rich Loughran



Rich Loughran, R.N. is the DAISY Award winner. "It was one of those unusually quiet nights, around 2 a.m., and several staff registered nurses (RN) were gathered around bed 9 and 10 recounting past incredible ICU stories. A staff member's child sold oranges to various RNs to raise money for their school band, and we were enjoying several of those oranges at this time. A respiratory therapist came out of bed 9 and said the patient was trying to say something but she just couldn't understand it. This patient had been intubated in our unit for several weeks, and the process of palliative care had been initiated. The patient had been non responsive for most of the past 24 hours. The patient's RN took about three seconds to realize the patient was mouthing the word 'orange,' having smelled the aroma out in the hall. The patient's nurse then proceeded to separate a section of this orange and carefully feed him several small bits. The patient's face instantly lit up, completely transformed from the weeks of bland gazes. The tears in his eyes said all the 'thank-you' we could ever need. The RN was Rich. I will remember this moment for the rest of my career. The compassion shown by this nurse to his patient will be an inspiration to all of us in optimizing end of life care." (Submitted by Winnie Hennessey and Janet Byrne)



Employees of the Month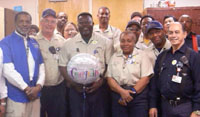 Floyd Jones, center, celebrates his selection of employee of the month with co-workers.



Floyd Jones, 10E, hospital maintenance, received the following recognition: "I accidentally dropped my necklace down the sink drain at 4 p.m. and if anyone turned the water on, my necklace would be gone. I paged Floyd Jones with hospital maintenance to come to the rescue. He was off the clock, out of uniform, and dressed to leave, and spent about half an hour getting my necklace out and even replaced parts on the sink to keep it from leaking. Floyd is always willing to help any of us take care of any task. He does it with a smile and never once complains. He's the best maintenance man we could ever hope to have on 10 East. (Nominated by Jayne Gillespie)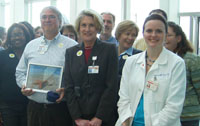 Co-workers congratulate Sheldon Weinstein for being selected as an employee of the month.



Sheldon Weinstein, medical director's office/ clinical effectiveness—social worker. Weinstein has generously volunteered to work for his colleagues during previous Christmas holidays. He really reflects the true spirit of Christmas giving. Nominated by Irene Dorsey. (Nominated by Irene Dorsey)



Physician of the Month



Dr. Robert Turner



Robert Turner, M.D., February Physician of the Month: "Dr. Turner's dedication and humanity really shined in the collaboration on a patient with a severe head injury. Dr. Turner was not part of the primary team covering the patient but he recognized the child's mother's stress and the subsequent stress that put on the nursing team. Dr. Turner acted as a bridge between the anxious mother, the frustrated nursing staff and the child's primary surgical team to ensure that communication was effective and clear. He spent an extraordinary amount of time with the child's mother purely from the goodness of his heart. Dr. Turner is an advocate of proactive communication and is willing to wait with patience for changes. He has a warm-hearted style that contributes to an overall positive working environment. (Nominated by Sallie Potts and the 7A and 8D nursing staff)


Friday, April 4, 2008
Catalyst Online is published weekly, updated as needed and improved from time to time by the MUSC Office of Public Relations for the faculty, employees and students of the Medical University of South Carolina. Catalyst Online editor, Kim Draughn, can be reached at 792-4107 or by email, catalyst@musc.edu. Editorial copy can be submitted to Catalyst Online and to The Catalyst in print by fax, 792-6723, or by email to catalyst@musc.edu. To place an ad in The Catalyst hardcopy, call Island Publications at 849-1778, ext. 201.