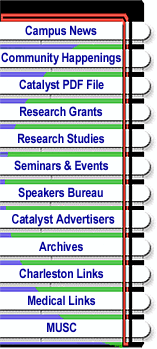 March for Babies fundraiser to help moms




by Maggie Diebolt




Public Relations


For more than 10 years, MUSC has supported the March of Dimes annual March for Babies fundraising event. Originally called WalkAmerica, this signature March of Dimes event supports research and grants for programs to improve infant and maternal health in South Carolina. The Charleston March for Babies event will take place at 9 a.m. April 26 at Cannon Park. Tri-county residents who walk will help fund research and educational programs aimed at helping mothers deliver healthy babies. Last year 2,500 residents participated, raising approximately $370,000.

The Women's Services department at MUSC began its own fundraising team last year, and contributed $8,700 of the total $26,700 raised by all MUSC teams.

"The relationship between Women's Services and the March of Dimes is very significant," said Roger Newman, professor and vice chairman for Academic Affairs and Women's Services Research, Obstetrics-Gynecology. "The babies we're marching for come from mothers with complications. In obstetrics, the most significant of these complications is prematurity, and prematurity is a focus of ours."

Maternal-Fetal Medicine (MFM) is a subspecialty of Obstetrics-Gynecology (OB-GYN). MFM physicians specialize in the diagnosis, treatment and ongoing care of expectant mothers and their unborn babies who are at high risk for special health problems. While there are not many MFM specialists in South Carolina, the Women's Services department employs the majority of MFM specialists in the state. Approximately 300 patients are transported to MUSC each year when there is a need for a higher level of maternal and newborn intensive care. Patients at high risk before delivery are often referred to a MFM specialist by their OB-GYN. One of the most common reasons for both intrapartum and antepartum referrals is preterm birth prevention.

Education and outreach efforts by the Women's Services department highlight the need for awareness of maternal health. A Preterm Birth Prevention Clinic takes place at the Prenatal Wellness Center every Wednesday for women who are at risk for preterm birth. For several years the department has funded outreach education for community physicians throughout the Lowcountry to learn about preterm birth prevention and practices. These efforts have been generously supported by March of Dimes chapter grants.

Newman, a member of the Trident March of Dimes board of directors, notes the importance of research in the Women's Services department.

"For a small department, we have a lot of involvement with the March of Dimes," said Newman. "Since the department takes care of a lot of preterm patients, a major area of our research is prematurity and prevention of preterm birth. As such, we are grateful for the support that the March of Dimes has given us."

Charles Rittenberg, M.D., instructor, OB-GYN, is using a statewide March of Dimes grant to focus on educating regional obstetrical providers on the appropriate administration of intramuscular progesterone for women in the Lowcountry with a history of a prior preterm birth. Progesterone reduces the risk of women having another pre-term birth by 40 percent.

Through a national March of Dimes grant, Laura Goetzl, M.D., associate professor, OB-GYN, is investigating why some women develop fever and inflammation during labor, and how serum markers may indicate which women are likely to develop such symptoms. Information obtained through this research will help develop intervention strategies to prevent potential complications of intrapartum fever.

Though the Women's Services department is small in terms of numbers, Newman is determined to beat last year's fundraising effort. With a goal of raising $12,000 set for this year's March for Babies event, Newman declared, "We are ambitious!"

Fundraising efforts by the Women's Services team include Blue jeans for babies, Beanies for babies, Breakfast for babies and T-shirt sales.

For information on donating to the Women's Services March
for Babies team, visit
http://www.marchforbabies.org/470401 or call contact Renee Merriam at 792-1077. Interested walkers and donors can visit
http://www.marchforbabies.org.



Friday, April 4, 2008
Catalyst Online is published weekly, updated as needed and improved from time to time by the MUSC Office of Public Relations for the faculty, employees and students of the Medical University of South Carolina. Catalyst Online editor, Kim Draughn, can be reached at 792-4107 or by email, catalyst@musc.edu. Editorial copy can be submitted to Catalyst Online and to The Catalyst in print by fax, 792-6723, or by email to catalyst@musc.edu. To place an ad in The Catalyst hardcopy, call Island Publications at 849-1778, ext. 201.