Meet...Jane
Name:

Jane Mosley-Whitaker.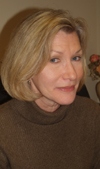 Department: Hollings Cancer Center.


How long at MUSC:

A total of 13 years with UMA.


What did you want to be when you were little:

A school teacher and/or missionary.


What was your first job:

A summer job typing and filing for the Charleston County School District.


If you could change careers, what would you be doing:

Interior designer.


Pets:

Blu, a 12-year-old black lab. He is still in training and has a mind of his own.


Something you collect:

Antiques, from cars to old lace. It's all about our history.


Favorite TV shows:

ETV, Discovery, and Walker, Texas Ranger. I love that man!


Favorite type of music:

Beach music.


Least favorite chore:

Shopping for groceries. I trained my husband for that one.


Item you must have in your refrigerator:

Ketchup.


Pet peeves:

People who spray graffiti on buildings, and littering.


With whom would you like to trade places for a day:

House Speaker Nancy Pelosi, to approve oil drilling in Alaska to help make us energy independent.

If I were the U.S. president for a day, I would ....:

Take Air Force One to Paris for the day.
Friday, April 4, 2008
Catalyst Online is published weekly, updated as needed and improved from time to time by the MUSC Office of Public Relations for the faculty, employees and students of the Medical University of South Carolina. Catalyst Online editor, Kim Draughn, can be reached at 792-4107 or by email, catalyst@musc.edu. Editorial copy can be submitted to Catalyst Online and to The Catalyst in print by fax, 792-6723, or by email to catalyst@musc.edu. To place an ad in The Catalyst hardcopy, call Island Publications at 849-1778, ext. 201.