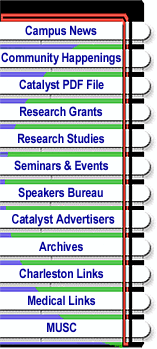 Positive outlook leads to balance, success





The following article is the final in a series dedicated to National Women's History Month (March) and this year's theme, "Women's Art and Vision."





by Heather Woolwine




Public Relations


Balance has many forms. Identifying one's balance may not be the hard part—the hard part is actually achieving it. But when balance is achieved, harmony is evident in a calm demeanor, or in Becki Trickey's case, an easy smile and vision for the college she loves.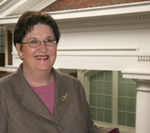 Dr. Becki Trickey



Trickey, Ph.D., College of Health Professions executive associate dean and professor, said that the keys to success are finding balance and seeing the world through the eyes of an occupational therapist (OT).

"I was drawn to the philosophy of the profession. OT is about leading a balanced life, and taking a broad perspective of interaction with an environment and helping others to adapt to their environment to live as independently as possible," she said. "In addition to that, I've always felt that you should work hard at work, and leave work at work. If you are able to leave work at work, you can also focus on the important aspects of your life at home." Finding balance then, and helping others find balance, has been the crux of Trickey's vision when it comes to her life, guiding students, or treating patients.

Trickey graduated from the University of Florida with a bachelor's degree in occupational therapy. "OT was a great fit for me because in everything I do I have to understand the context or the environment to understand how I need to move forward, and OT is the same way," Trickey said. Moving from Florida to Charleston, back to Florida, and then back again to Charleston, Trickey and her husband set down permanent roots in 1975 in the Holy City. She worked as an occupational therapist, and became an active participant in South Carolina's occupational therapy association. About the same time, the administration at the College of Health Professions determined that an occupational therapy program was needed at MUSC. Trickey served as a key contributor to getting the fledgling program off the ground by working closely with the statewide association on an MUSC advisory committee. In fact, she was so helpful that she was offered a job as a faculty member.

"I taught one course and realized how much I enjoyed it. I wasn't sure about full-time, but I went on to get my master's here at MUSC (Master of Health Sciences with an emphasis in education and administration), and when the position came open, I started teaching. I thought I'd never want to teach, but found that the satisfaction I got from working with students was so similar to what I got out of working with patients," she said. "It's really the same thing; it's wonderful to see them reach their goals."

Trickey's vision shifted once again with the arrival of her daughter, Sara. She scaled back her time at work to be with her, achieving a new sense of balance. She credited her husband of 35 years, Scott, with providing a steady source of support throughout many transitions. "We made a decision to stay in Charleston because of the opportunities here, and if it hadn't been for him, I wouldn't have had the money or family support to go to school for my masters or my doctorate. Support from him and my daughter have been so important," she said.

After working a part-time schedule for a few years, Trickey came back full-time to the College of Health Professions, and then decided to pursue her doctorate in higher education administration from the University of South Carolina. In the early 1990s, she took what she called a side step to work on a grant for interprofessional education with Valerie West, Ed.D., associate provost for education and student life. This would be the beginning of the interprofessional education movement at MUSC with the original grant focused on involving a multidisciplinary care approach to training students in the College of Health Professions. Her ascent was steady as she moved to the associate chair of rehabilitation sciences and worked on a grant to provide inter-disciplinary courses through distance education in Greenville for occupational therapy, physical therapy and speech pathology. Afterward, Trickey was asked to serve as the director of the occupational therapy program. Eventually she chaired the rehabilitation sciences department and then was asked to work in the dean's office as the associate dean for academic and student affairs. It is at this point in her resume where a pattern begins to emerge. Trickey seems to be the go-to woman when an experienced person is needed to helm the ship. When Danielle Ripich, Ph.D., (former dean) left the college a little less than two years ago, Trickey served as interim dean.

"It was overwhelming, yet I felt like I was probably the best person at the time to do it," she said. "I know the college and the university, I have good relationships around campus and I didn't have any desire to be a permanent dean, so I felt I could be objective in the goal of hiring the best possible dean for CHP. It was my job to be the relief pitcher." She admits that there were some difficult decisions to make during that time, but the support of others helped her through. "I'd seek advice from Dr. West or Dr. (John) Raymond, who are always so supportive and available. When you're in that position, there aren't many people you can talk to because of the confidential nature of things, and at the conclusion you have to stand by whatever decision you make."

A member of more than 40 professional organizations throughout the course of her career and with approximately 80 publications, grants and presentations, Trickey has been able to return full time to her student and academic affairs work for the college since the arrival of Mark Sothmann, Ph.D., the college's new dean. Her academic work centers on curriculum and accreditation, working closely with individual programs and serving as the CHP liaison to other areas of the university. With regard to students, she deals with student recruitment and retention, diversity, student organizations, advocacy for CHP students and graduation duties. With another transition under her belt, Trickey has committed to expanding the vision of CHP. Impressed with the quality of CHP students currently here, Trickey said it is important to maintain the caliber of students matriculating into the college and find more ways to broaden their educational experience within an interprofessional context. "As health care evolves and changes, so do academic programs. We continue to work with our programs' faculty to maximize the learning experience through state-of-the-art technology with content relevant to today's environment," she said.

In the fall, CHP will host its first homecoming event for faculty, students, staff and alumni. Trickey explained that the event is meant to provide a way for current students and alumni to make connections for the benefit of both groups through mentorship and networking. "The dean's vision is to develop CHP scholarships to achieve national distinction," Trickey said. "We're going to continue with the development of academic programs and research and scholarship. We've done a lot of talking about diversity in our college, and we will continue to develop and implement programs and initiatives that will provide our diverse student groups with the support services and student scholarships that they need."

With CHP on solid footing, and plans to forge ahead as a leader in health profession education for the 21st century, Trickey says that improvement of a good thing is all about being positive. "You have to be willing to step through a door and have the self-confidence to try," she said. "Nothing's set in stone, you can always change something. You have to learn from every experience, and take advantage of being a life-long learner. You always look for the positive; even if you don't like something you are doing, there's always the possibility that it's preparing you for the next step."


Friday, April 4, 2008
Catalyst Online is published weekly, updated as needed and improved from time to time by the MUSC Office of Public Relations for the faculty, employees and students of the Medical University of South Carolina. Catalyst Online editor, Kim Draughn, can be reached at 792-4107 or by email, catalyst@musc.edu. Editorial copy can be submitted to Catalyst Online and to The Catalyst in print by fax, 792-6723, or by email to catalyst@musc.edu. To place an ad in The Catalyst hardcopy, call Island Publications at 849-1778, ext. 201.