Registrars vital to Hollings Cancer Center




by Karen Austin




Oncology and Medical/Surgical Services


MUHA and Hollings Cancer Center are very fortunate to have a staff of four certified cancer registrars, with two apprentices working toward certification this year. Together the registrars have more than 34 years of combined experience.

The MUSC Cancer Program has operated the Cancer Registry since 1924 and is approved by the American College of Surgeons Joint Commission on Cancer. The Cancer Registry is a critical source of clinical data about every patient that has been diagnosed with and/or treated for cancer at MUSC, and each year the data is submitted to the Hollings Cancer Center's Annual Report.

In addition to providing data for the annual report, the registry receives many requests for data from doctors and researchers at MUSC for various projects and studies. The registry submits data monthly to the South Carolina Central Cancer Registry and to the National Cancer Data Base's annual call for data.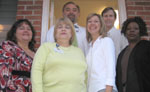 Tumor registry staff members, from left, are Lisa Knight, Mary McAbee, Israel Rivers, Teresa Atwood, Joe Coulbourn and Muriel Green.



Registrars include Teresa Atwood, Joe Coulbourn, Muriel Green, Lisa Knight Mary McAbee and Israel Rivers, who also serves as the cancer registry coordinator.

MUSC and Hollings Cancer Center will honor the registrars during National Cancer Registrars Week, April 7 - 11 with an open house from 2 to 4 p.m. Monday, April 7 in Room 124, HCC. Refreshments will be served.



National Cancer Registrars Association


Cancer registrars around the world will join with their colleagues and local community leaders to commemorate the annual National Cancer Registrars Week. The 2008 theme, Cancer Registrars: More than Just Statistics, reflects the expansive role of cancer registrars and cancer registry data across the spectrum of cancer-related initiatives. As the Trust for America's Health reported in its analysis of state cancer registries, "Information is the most vital tool for finding ways to more effectively treat and prevent the disease."

"Cancer registrars are at the core of the nation's anti-cancer efforts, so it is imperative that the information we provide is of the highest standard," said Sally Kruse, National Cancer Registrars Association (NCRA) president. "We are data collection and management experts with the training, specialized skills, and eye for detail to provide the high quality data required in all avenues of cancer statistics and research."

Cancer registrars work in the complete range of cancer treatment and research settings managing a wide range of demographic and medical data on people with cancer. The information is submitted to state and national cancer registries for use in research, treatment and prevention initiatives, enabling cancer programs to accurately determine cancer patient populations, measure outcomes of treatment and survival, and formulate plans for quality improvement.

"As we focus on the contributions of cancer registrars, it is especially important that we also highlight the growing demand for trained and qualified cancer registrars as key components of all cancer control initiatives," Kruse said.



Friday, April 4, 2008
Catalyst Online is published weekly, updated as needed and improved from time to time by the MUSC Office of Public Relations for the faculty, employees and students of the Medical University of South Carolina. Catalyst Online editor, Kim Draughn, can be reached at 792-4107 or by email, catalyst@musc.edu. Editorial copy can be submitted to Catalyst Online and to The Catalyst in print by fax, 792-6723, or by email to catalyst@musc.edu. To place an ad in The Catalyst hardcopy, call Island Publications at 849-1778, ext. 201.