After 16 years pharmacist fulfills dream




by Dick Peterson




Special to The Catalyst


Timi Davie's story is one of a lost and found dream; lost for the sake of her children and found when her children gave it back.

On May 16, when she receives her Doctor of Pharmacy degree, Davie's dream will become a reality.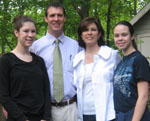 Dr. Timi Davie with husband Phillip and daughters Hannah, left, and Leah.



"In 1992 when I entered MUSC as a student in the College of Pharmacy, my husband and I were not planning to have children right away," she said. "But that very first semester we found out we were going to have our first child."

Davie said the pregnancy caught them both by surprise. Her husband, Phillip Davie, was a school teacher, and the added expense of raising a child and paying for daycare along with college tuition and living expenses on a teacher's salary was not part of the plan.

So they changed the plan.

Davie dropped out of school to be a mom. They moved back to the Upstate where her husband became a middle school principal, and she stayed home with Hannah and later gave birth to Leah.

She said the decision was tough to swallow, but easy to make. To her, raising a family came before training for a career. "Financially, we would have struggled. We do wish now, looking back, that we had done things a little bit differently, but I've never regretted coming home and being with my kid."

Hannah and Leah are now 14 and 11, but four years ago, they and their father decided it was time for Mom to have her dream. Dad left his job in the Upstate to become principal of James Island Middle School, Hannah and Leah said goodbye to their friends, and the whole family moved to the Lowcountry so Davie could re-enroll in the MUSC College of Pharmacy.

"I chose pharmacy, because I've always liked biology and chemistry. That's why I got into it at first, but the more I studied, the more I loved it. Pharmacy is a people-oriented career and it fits well with my interest in science and my passion for people." Davie said her three-year internship with Target's pharmacy and the company's policy to put their pharmacists out front where they are available to counsel customers solidified her resolve.

But becoming a pharmacist was not the first time Davie followed a call to reach out to people. She calls it a "kind of bitter-sweet story. "

"My first husband and I were going to be missionaries to Haiti, but six days after we were married we were in an automobile accident and he was killed," she recalled.

The trauma left her wondering where to go from there. "I didn't want to go to a Third World country by myself; I just wasn't that independent." But she said that through a lot of prayer and a few years later finding a "great Christian guy," she was able to recover, remarry and once again focus on a career. That's when she placed pharmacy, the right combination of science and service for her, high on her list of "first-loves," after her faith in Jesus Christ, her husband and her daughters.

Davie said that the pharmacist should be able to communicate with the patient in order to be assured that the patient knows why he is taking the medication and how it is to be administered appropriately. "And there are times when patients come in—such as when a woman whose husband just passed away came into my pharmacy—and you're the first person in the community they see. It's a chance to love people and serve them with the best you have."

She said she welcomes recent trends in the pharmacy profession to take a larger, more active role as part of a health care team to serve and help educate patients. "We're very capable of drug administration, whether by injections, oral or other delivery systems, as well as possessing a broad knowledge of drugs." Davie said in a few states pharmacists are prescribing drugs based on a physician's diagnosis. Also, pharmacists' educational role is expanding to include teaching the operation of medical devices.

"With the increasing numbers of baby boomers, pharmacy has a great opportunity to expand its role under the health care umbrella," she said.

Davie doesn't rule out one day taking her pharmacy skills with her as a missionary to people in underdeveloped countries, but for now she's certain she is where she's supposed to be and doing what she's supposed to do.

"And I have two wonderful, bright girls. They are great, independent workers, and they made it possible for me to go back and fulfill my dream," Davie said.



Friday, May 16, 2008
Catalyst Online is published weekly, updated as needed and improved from time to time by the MUSC Office of Public Relations for the faculty, employees and students of the Medical University of South Carolina. Catalyst Online editor, Kim Draughn, can be reached at 792-4107 or by email, catalyst@musc.edu. Editorial copy can be submitted to Catalyst Online and to The Catalyst in print by fax, 792-6723, or by email to catalyst@musc.edu. To place an ad in The Catalyst hardcopy, call Island Publications at 849-1778, ext. 201.