Meet...Emily
Name:

Emily Ann Bellebaum, PharmD.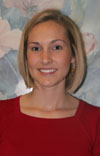 College: MUSC College of Pharmacy.
Family:

Dad, mom, older sister, younger brother, and our cocker spaniel, Maggie.
Community service:

Harvest Free Medical Clinic, Special Olympics and Hope Lodge.
When you were younger, what did you want to be:

A television news anchor.
What attracted you to pharmacy and MUSC:

Pharmacy—diverse opportunities and direct patient care. MUSC—nationally recognized professors, good reputation and Charleston.
Favorite class:

Geriatric elective.
Plans after graduation:

Community practice residency at South Carolina College of Pharmacy- MUSC.
An unforgettable moment as an MUSC student:

Taking my final therapeutics test as a third year; knowing that the next test I will take will be my boards.
Three things as a pharmacy student that you couldn't live without:

My calculator, Dr. Weart and my classmates.
Who inspires you:

My older sister, Katie.
Toughest challenge you have had to face this year:

Deciding what type of residency I wanted to complete and where to apply.
Where do you see yourself in 10 years:

Conducting clinical services in a community pharmacy, focusing on patient relationships and improved medication selection.
Words of advice for other MUSC students:

Stay focused, remain involved and have fun!
Friday, May 16, 2008
Catalyst Online is published weekly, updated as needed and improved from time to time by the MUSC Office of Public Relations for the faculty, employees and students of the Medical University of South Carolina. Catalyst Online editor, Kim Draughn, can be reached at 792-4107 or by email, catalyst@musc.edu. Editorial copy can be submitted to Catalyst Online and to The Catalyst in print by fax, 792-6723, or by email to catalyst@musc.edu. To place an ad in The Catalyst hardcopy, call Island Publications at 849-1778, ext. 201.