Nursing graduate comfortable in MICU




by Megan Fink




Public Relations


Inspired on a personal level, Kyle O'Bryan's transition from nursing school to a career in nursing will be one that's rather smooth.

O'Bryan's interest in becoming a nurse began while attending Truman State University in Missouri. But it wasn't until his wife, Abigail, had surgery for a recurring brain tumor that he decided to go into the medical profession.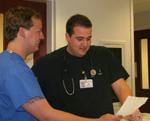 Kyle O'Bryan collaborates with registered nurse Seth Long in the MICU.



"Seeing the care she received from her nurses reinforced my desire to become a nurse," O'Bryan said. "I could see how people made a difference in her life."

MUSC appealed to both O'Bryan and his wife, who is finishing her first semester in the program. The couple was impressed with the reputable teaching hospital that had a 16-month nursing program. A chance to live along the South Carolina coastline also was a deciding factor.

O'Bryan will be working in the medical intensive care unit (MICU) after graduation. It's an area with which he is experienced and comfortable.

O'Bryan started MICU halfway through the accelerated, undergraduate program in the College of Nursing, and will continue to be a part of the critical-care team upon graduation.

O'Bryan enjoys the clinical complexity of working in MICU.

"It's unique how everyone comes together as a team in the MICU," said O'Bryan. "It's fast paced; the acuity of the patient is challenging, and it's a great opportunity to learn from a variety of cases." As a student technician in the health options pool, O'Bryan was able to find his fit in MICU while rotating through several different units.

A program highlight for O'Bryan was his clinical experience with Cathleen Brannigan. "She helped take us from dependent nursing students to critical thinkers," said O'Bryan. "Brannigan would make us take a closer look at our patients and probe into the reasoning behind giving medications, and would then quiz us about the meaning of lab values in relation to the medication."

O'Bryan also enjoyed John Welton's, Ph.D., R.N., pathophysiology class. "Dr. Welton is engaging and shared stories from his career," O'Bryan said, adding that more male professors such as Welton are needed in nursing education.

Amid a nationwide nursing shortage, increasing the number of male nurses is crucial if resolution to the problem is going to be achieved, he said. "More males are going into nursing, but it's still such a low number compared to females; so under-represented," said O'Bryan. "About 50 percent of our patients are male, so we need to shatter the stereotypes. It's not the [perceived] subservient role anymore."

This is O'Bryan's second Bachelor of Science degree; the former is in health science. He plans to obtain his Critical Care Registered Nurse certification and continue his education at MUSC after gaining some professional experience.



Friday, May 16, 2008
Catalyst Online is published weekly, updated as needed and improved from time to time by the MUSC Office of Public Relations for the faculty, employees and students of the Medical University of South Carolina. Catalyst Online editor, Kim Draughn, can be reached at 792-4107 or by email, catalyst@musc.edu. Editorial copy can be submitted to Catalyst Online and to The Catalyst in print by fax, 792-6723, or by email to catalyst@musc.edu. To place an ad in The Catalyst hardcopy, call Island Publications at 849-1778, ext. 201.