Surgeon honors tradition, call to dentistry




by Cindy Abole




Public Relations


An age-old ritual practiced by Armenian families centers around a child's first tooth. During the traditional event, Agra Hadig, the baby receives a dusting of bulgur wheat on his head for good luck and is surrounded by several objects of a symbolic meaning.

The first item the baby picks up is believed to predict his destiny. Objects usually include everyday things like a book (symbolizing a teacher/scholar); a pen (writer); a spoon, etc.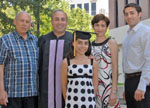 2008 Dental Medicine graduate Dr. Suren Paravyan, second left, with father, Valdemar (left); daughter, Gayane (center); wife, Dr. Tereza Poghosyan; and brother, Hmayak.



For Suren Paravyan, DMD, M.D., the custom was prophetic of dentistry, according to his 67-year-old father, Valdemar. Paravyan's father and brother, Hmayak, recently traveled more than 6,300 miles from Armenia and the Netherlands to join Paravyan's wife, Tereza Poghosyan, M.D., and daughter, Gayane, to watch another ritual – the presentation of Paravyan's second professional degree, this one in dental medicine.

Though more a family affair, Paravyan's path to dentistry was unconventional.

Back home in Vanadzor, Armenia, he had a fulfilling, successful career as a general surgeon. A graduate of Yerevan State Medical University, Paravyan spent four years as a surgeon before coming to America with his family in 1999.

"I have friends who are dentists both in the U.S. and Armenia, and I saw their lifestyle," said Paravyan. "After really considering my choices, I decided to try a new career that was more supportive to the needs of my family. I never believed that I would love dentistry as much as I do."

In 2003, the family to moved to Charleston from suburban Los Angeles, where they lived in a community of Armenians. Poghosyan had matched to a five-year radiology residency program at MUSC. That's when Paravyan considered MUSC's dental program.

Stepping back into the classroom had its challenges. Paravyan completed several prerequisite classes, including general and organic chemistry, and kept an eye on his goal. Because of his medical background and surgical experience, he excelled in many classes, including gross/neuroanatomy and physiology and worked as a teaching assistant after his first year.

"I was lucky to already have some real-life experiences working with patients," he said. "I treated a variety of patients from different countries and cultures. It's important that we, as health professionals, acknowledge our patients as individuals and treat them with dignity and respect."

For Armenians, family and traditions come first, he said.

"Surgery will always play a role in my life. I just don't want to sacrifice my family life to the demands of surgery," said Paravyan. While his wife, who is completing her radiology residency June 30, bore a hectic schedule Paravyan committed himself to his family like never before; especially for the sake of Gayane, 11.

"Suren has done a great job helping with Gayane and her homework and school activities. He's tutoring her as she continues to read and write in our native Armenian language. He's a very dedicated and loving father," said Poghosyan.

This summer, Paravyan's family will relocate to Boston. In September, he will begin a one-year general practice dentistry residency at Tufts University and hopes to pursue endodontics. Poghosyan will begin a yearlong abdominal imaging and intervention subspecialty fellowship at Harvard's Brigham and Women's Hospital.

Meanwhile, the family custom appears to be continuing – during Gayane's Agra Hadig ritual 11 years ago, she picked up a toothbrush.

Friday, May 16, 2008
Catalyst Online is published weekly, updated as needed and improved from time to time by the MUSC Office of Public Relations for the faculty, employees and students of the Medical University of South Carolina. Catalyst Online editor, Kim Draughn, can be reached at 792-4107 or by email, catalyst@musc.edu. Editorial copy can be submitted to Catalyst Online and to The Catalyst in print by fax, 792-6723, or by email to catalyst@musc.edu. To place an ad in The Catalyst hardcopy, call Island Publications at 849-1778, ext. 201.