Ambulatory Care Services honors employees


Ambulatory Care Services held its annual Healthcare Workers of the Year awards ceremony and reception May 13 to honor this year's nominees and recipients. Each year, employees, supervisors, and physicians nominate those individuals who exemplify the values of the organization—Accountability, Respect, Excellence, and Adaptability—on a daily basis. There are four categories for nominations, specific to the role of the individual.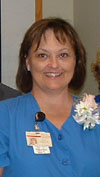 Vivian Huguley



Registered Nurse of the Year—Vivian V. Huguley, clinical care coordinator, Women's Services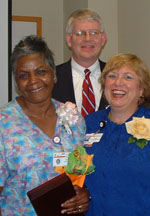 Paulett Felder, left, accepts her gift from Dave Neff and Sherry Gillespie-Miller.



Licensed/Certified Healthcare Worker of the Year—Paulett S. Felder, licensed practical nurse (LPN), Transplant/Nephrology Clinic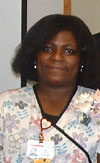 Kim Cooper



Healthcare Assistant of the Year—Kim A. Cooper, cast technician, Children's Services



Darryl Lee



Administrative Support Staff of the Year—Darryl L. Lee, staff support coordinator, Neurosciences and Hollings Cancer Center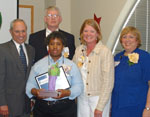 Stephen Valerio, left, Dave Neff, Shannon Ravenel, second from right, and Sherry Gillespie-Miller congratulate Paulette Green as being rcognized as one of two Suuprt Services of the Year honorees.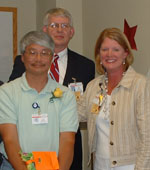 Lance Johnson is congratulated by Dave Neff and Shannon Ravenel.



Support Services Staff of the Year—Paulette W. Green, transporter, Support Services and Lance H. Johnson, information systems coordinator, Information Systems.

Other nominees were Carolyn Cavanaugh, R.N., Storm Eye Institute; Karen Short, R.N., Ear, Nose and Throat; Cindy Stokes, R.N., Pediatric Hematology/Oncology; Carolyn Kay, LPN, Neurosurgery; Marie Ladson, LPN, Infectious Disease; Kim Lenhart, certified ophthalmic technician, Storm Eye Institute; Deborah Oliver, LPN, Children's Services, Gastroenterology and Nutrition; Brandon Couch, clinical associate, Pulmonary; Terry MacBain, clinic coordinator, Storm Eye Institute; Ellen Saqui, patient care technician, Hollings Cancer Center; Eulalia Brown, administrative assistant, Women' Services; Joy Burns, administrative assistant, Ambulatory Care Administration; Brenda Donato, patient registration representative, Maxillofacial Prosthodontics; Amy Fennell, supervisor, Central Pre-Certification; Sandra Gethers, administrative specialist, Medical/Surgical Services; Marketha Green, patient registration representative, Storm Eye Institute; Maria Vinson, scheduling coordinator, Medicine Scheduling; Laurie Ward, scheduling coordinator, Hollings Cancer Center; Thomasina Jacques, area cleaner/team leader, Environmental Services; and Michael Martin, team leader, Environmental Services.

All nominees were presented with a framed certificate at the reception. Award recipients also received an engraved clock and small gift. Their names were engraved on the Perpetual Plaque that is located on the first floor of Rutledge Tower.

In making the award announcements, Dave Neff, administrator, Ambulatory Care Services; Sherry Gillespie-Miller, director of clinical services; and Shannon Ravenel, director of clinic business operations, read excerpts from each winner's nominations.

Some of the comments were as follows:

Huguley: "Vivian is truly a clinical expert in her area of obstetrics. She holds herself accountable for everything relating to her patients and team, often reaching out to assist the other teams at 135 Cannon as needed. She is an active and totally committed participant and leader for the many unit-based as well as ambulatory care process improvement activities."
Felder: "She is respected by her colleagues and her opinions and ideas are always welcome. Her AIDET is accomplished smoothly and she particularly respects patients' privacy and confidentiality. I am told frequently by the liver transplant team that Paulett is the backbone and they could not run an effective clinic without her expertise. No matter how harried the clinic, Paulett stays calm and focused. She is polite to everyone, she genuinely cares about the patients and their families and she's great at reminding us if someone has missed an appointment or been seen on an off day and needs more follow-up."
Cooper:"Kim demonstrates a genuine understanding of what it is to be a child in a clinic surrounded by strangers and loud equipment. I have observed her working with a scared child who is having her cast removed by a loud electrical device. Kim provided comfort and reassurance which seemed to ease the child's fears.
Lee: "Darryl is always a calm, positive, stabilizing presence. He is always willing to assist another registration desk or coworker in getting the job done. He is clearly committed to doing what is right and what is best…not because of any potential recognition or award, but because he is that kind of person. Employees like Darryl will help us reach our goal of being the best place to work, the best place to receive care, and the best place to practice medicine."
Paulette Green: "Ms. Green is a very dedicated worker. She does a fantastic job transporting and taking care of the needs of the patients, family members, staff etc. Anything she does is always with a smile. She is also a preceptor in the transportation department and does an outstanding job. She transports in a very timely and professional manner.
Lance Johnson: "On every major move or new location opening for Ambulatory Care, Lance has worked hours to accommodate the new site opening with the least interruption to patient care and the most convenience to the people involved in the move. Lance is always polite and helpful to all coworkers and patients. His office is in the parking garage and he has helped change tires more than once for people he sees needing help. His work sets the bar for service in Ambulatory Care. He is always working hard to help his team and department serve patients better. Just seeing his work inspires others to new heights."



Outstanding preceptors


In addition to honoring the Ambulatory Care Healthcare Workers of the Year, the outstanding preceptors were also recognized and honored.

The preceptor recognition program is now in its third year and recognizes those preceptors who have done an outstanding job in assisting new employees. The program is called the Key to Success program as preceptors are the keys to the success of an organization.

As Keys to Success, preceptors do the following: improve patient care by providing a competent and consistent learning program for new employees; reduce orientation costs by increasing new employee satisfaction and retention; assist in establishing MUSC as an Employer of Choice; and assist with regulatory compliance by documenting competency of the new employee using the Competency Based Orientation.

Six preceptors were recognized and presented with a framed certificate and a lapel pin engraved with "I am the Key to Success." Those recognized were nominated by their coordinators or managers and had attended the Ambulatory Care Basic Preceptor class and served as effective preceptors as outlined in the Preceptor Policy.

The Ambulatory Care 2008 Key to Success Preceptors are Virginia (Jenny) Dunn, resident scheduling representative, Women's Services; John Frizzell, certified ophthalmic technician, Storm Eye Institute; Mildred Jenkins, transporter, Support Services; Sallie O'Brien, R.N., Endocrine Clinic; Marie Simons, scheduling operations coordinator; and Shawnteah Thompson, patient registration representative, fifth floor, Rutledge Tower.


Friday, May 23, 2008
Catalyst Online is published weekly, updated as needed and improved from time to time by the MUSC Office of Public Relations for the faculty, employees and students of the Medical University of South Carolina. Catalyst Online editor, Kim Draughn, can be reached at 792-4107 or by email, catalyst@musc.edu. Editorial copy can be submitted to Catalyst Online and to The Catalyst in print by fax, 792-6723, or by email to catalyst@musc.edu. To place an ad in The Catalyst hardcopy, call Island Publications at 849-1778, ext. 201.