COM honors members with awards




by Mary Helen Yarborough




Public Relations


The College of Medicine presented 18 awards to students who are considered some of MUSC's highest achievers, said Jerry Reves, M.D., COM dean who presided over the ceremonies May 15.

"We honor the best of the best of the 139 graduates," Reves said. "Everyone who is graduating made good grades, but being the best is more than getting all of the answers right."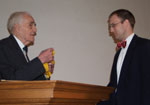 Dr. Charlton deSaussure presents the deSaussure Medal of the Omnes Recte Luvare Society award to S. Lewis Cooper during May 15 ceremonies in St. Luke Chapel.



Charlton deSaussure, M.D., addressed the crowd during the event in St. Luke Chapel. deSaussure, for whom the deSaussure Medal of the Omnes Recte Iuvare Society (ORI) is named, is professor emeritus of Medicine since retiring in 1992. He practiced medicine in Charleston for 40 years and taught generations of MUSC students.

In some ways, medicine of the past is better than it is today, he said.

"Twenty years ago, the physician was less involved with diagnostic technologies in determining a patient's condition," he said. "What matters is what the doctor thinks is wrong with his patient when he examines him rather than relying so much on what a machine tells the physician what might be wrong."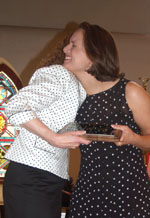 Dr. Kristie Appelgren, right, embraces Laurine Charles, associate director of student diversity, when she is presented with the Office of Student Diversity Bernard Deas Award for her work in Hispanic communities, both domestic and abroad. Fluent in Spanish, Appelgren founded the Programa Salud while as a university student at Wake Forest; and at MUSC, she is a past recipient of the Christman Service and the Presidential Scholar Distinguished Achievement in Community Service awards, among others. Appelgren will train in pediatrics at Duke University.



Award recipients and the awards they received were:

S. Lewis Cooper—deSaussure Medal of the ORI Society; Merck Manual Award;
John Rouse Weathers—Charles Pinckney Darby, Jr. Award
Todd Nathanial Senn—Henry Tracy Ivy Award
Robert Lauren Shapiro—Merck Manual Award, Center for Academic Excellence Outstanding Supplemental Instructor Award
Sean Patrick Whelan—Merck Manual Award; William H. Lee, Jr., Memorial Award
Rachel Beth Rosansky—Leonard Tow Humanism in Medicine Student Award; Hiram B. Curry Humanitarian Award
Marian H. Taylor, M.D. —Leonard Tow Humanism in Medicine Faculty Award
Michael Thomas Drake—H. Rawlings Pratt-Thomas Service and Leadership Award
Mary Shell Brosche Zaffino—President's Clinical Science Award; Palmira Silva Snape, M.D. Award for Volunteer Service
Zachary Blaine Stroud—Thomas M. Savage Memorial Award
Kristi Elizabeth Appelgren—Office of Student Diversity/The Bernard W. Deas, Jr. M.D. Award
Dan Victor Giurgiutiu—Award for Excellence in Neurology
Sarah Anne Sandberg—Mike Russell Outstanding Obstetrics/Gynecology Student Award
Sarah Ada Leatherman Allen—John Cross Classmate Support Award
Alpha Omega Alpha Honor Society




Class of 2008


David Darrell Arrington; Jason Bryan Coker; S. Lewis Cooper*; Virginia Culyer Daughtery; Matt Thomas Garin; Dan-Victor Giurgiutiu*; Carlotta Jenkins Lalich; Bradley Scott Kalinsky; Amy Shannon Ketcham; Peter Jennings King; Gregor Krings*; Andrew Roper Lewis; William Justin McCrary*; Theadore Richardson McRacken*; Meredith Cates Northam; Todd Nathanial Senn; Robert Lauren Shapiro*; Julie Miller Swick; Zeke Jonathan Walton; John Rouse Weathers; Sean Patrick Whelan*; Caroline Felder Wooten; MaryShell Brosche Zaffino; and Alexei Michailovich Zhadkevich*
* Denotes election during their third year



Friday, May 23, 2008
Catalyst Online is published weekly, updated as needed and improved from time to time by the MUSC Office of Public Relations for the faculty, employees and students of the Medical University of South Carolina. Catalyst Online editor, Kim Draughn, can be reached at 792-4107 or by email, catalyst@musc.edu. Editorial copy can be submitted to Catalyst Online and to The Catalyst in print by fax, 792-6723, or by email to catalyst@musc.edu. To place an ad in The Catalyst hardcopy, call Island Publications at 849-1778, ext. 201.