Wal-Mart, Sam's help Children's Hospital through Children's Miracle Network




by Amy Gordon




Children's Hospital Fund


For many sick and injured children, the only place to get the specialized medical care they need is at a children's hospital.

For children in the Charleston area, that place is MUSC Children's Hospital. To enable children's hospitals to make the very best care available to the most children, Wal-Mart stores and Sam's clubs nationwide are once again partnering with the Children's Miracle Network to raise funds and awareness for those hospitals and the work they do. The six-week fund raising period at Wal-Mart stores and Sam's clubs is currently under way, featuring sales of $1 paper balloons and special storewide activities by associates.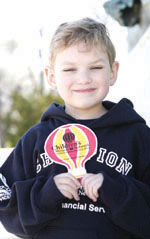 2008 Children's Miracle Network Champion Child, Joseph Greenwood, was in Washington, D.C., with a Miracle Balloon. The balloons are being sold through May 31 at Wal-Mart and Sam's Club stores.



MUSC Children's Hospital is the beneficiary of the funds raised at stores and clubs in the Charleston area, including West Ashley, James Island, Summerville, Georgetown, Mount Pleasant, Walterboro, Moncks Corner and Goose Creek.

For 21 years, Wal-Mart and Children's Miracle Network have worked together to help the 170 hospitals in the network to provide state-of-the-art care, research and preventative care for children. Through direct contributions and funds raised at stores and clubs, Wal-Mart has contributed more than $430 million to Children's Miracle Network since 1987. That amount includes $39 million given in 2007 alone.

Children's hospitals throughout the country treat an estimated 17 million children each year with illnesses and injuries of every kind. The familiar red- and-yellow-striped paper balloons are available for purchase for $1 at registers at Wal-Mart stores and Sam's clubs through May 31.



Friday, May 23, 2008
Catalyst Online is published weekly, updated as needed and improved from time to time by the MUSC Office of Public Relations for the faculty, employees and students of the Medical University of South Carolina. Catalyst Online editor, Kim Draughn, can be reached at 792-4107 or by email, catalyst@musc.edu. Editorial copy can be submitted to Catalyst Online and to The Catalyst in print by fax, 792-6723, or by email to catalyst@musc.edu. To place an ad in The Catalyst hardcopy, call Island Publications at 849-1778, ext. 201.