Nurse provides comfort for little patients




by Mary Helen Yarborough




Public Relations


David Wendorf, R.N., is a giant of a man who enjoys comforting some of the little patients terrified of the strange, sterile environment of outpatient surgery.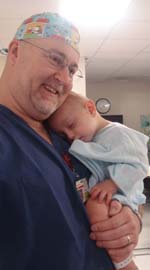 David Wendorf walks 1-year-old James to sleep before his six-hour double cochlear implant procedure

.



As coordinator of ophthalmology, general and pediatrics for ambulatory surgery, Wendorf's work involves a quicker pace compared to when he worked in the main hospital operating room (OR). Despite the pace, interacting with patients is easier.

"Here we are located so close to holding and recovery that we get to talk more with the patients and their families," Wendorf said. "This job affords me the time to see the people. In the main OR, you would meet the patients before they were sedated, which made them groggy, so you would never get to know them. Here, it's a little more personable as the cases are usually not always so long or complex."

His wife, Kate, is a certified registered nurse anesthetist in Ambulatory Surgery. The two have become a comfort team for children.

"Kate will call me over if she finds somebody who likes trains or cars; because she knows I'll get a kick out of watching the children playing with a little John Deer tractor or Thomas the Tank engine we had brought in," he said.

The children sense Wendorf's good nature and they often seek his attention.

One recent day, Ashley and Adam Morris brought in 1-year-old James, who was born profoundly hearing impaired. The baby was facing bilateral cochlear implants, which would involve surgically implanting devices behind each ear to enable the child to hear.

The baby was frightened and tired on that early April morning. The parents seemed even more anxious, Wendorf observed, and the mother acknowledged their fear.

"Before the surgery, I was pacing the floor," Mrs. Morris said. "So, one of the nurses asked if she could hold James. Several nurses were sharing him, holding him; and when one set him down, James reached up to David [Wendorf], and David picked him up."

Wendorf said he comforted the child as much for the parents' sake as anyone's.
"The child's family was Navy, so I bonded, because I had been in the Navy," Wendorf said. "And I could see the dad was having a hard time."

Wendorf kept the child calm and carried him around until he fell asleep in his arms. Wendorf eventually carried the child into the OR where he set him down on the table.

"The baby cried a little bit, but crying can help the sleeping agent work, and the babies go to sleep faster," Wendorf said. "It's easier for babies in the hospital. It's not as traumatic as it is for the parents."

Holding the little boy evoked memories for Wendorf when he was a young father stationed onboard the USS Nicholson at the Naval Base in Charleston.

"I was aboard the ship and I got a call that my son had fallen off a chair and cut his chin open," Wendorf said. "I remember rushing home to get him and taking him back to the Navy hospital. I was holding my son in my arms. He's now 22, a giant in his own right, and taller than me, too.

"But then, I was holding my little son in the emergency room when they asked me to assist. I had to hold him down while they stitched up his chin," Wendorf said.

After the procedure, the young father was walking past a nurse.

"Petty Officer Wendorf, are you OK?" she asked. "I said, 'yeah, sure, uh-huh.' And she said, 'No you're not,' as she had me lay down on a stretcher, I was so white.

"I always remember that, and what it feels like to be a parent when your child's being operated on," Wendorf said.

A few days after James endured a six-hour double cochlear implant procedure, Wendorf received a photograph and a note:

"My husband and I would like to thank you for your generosity today. You really helped ease the tension off James' surgery. You and your wife are such wonderful people, and I wanted to thank you both for everything," signed Adam and Ashley Morris.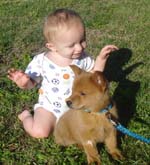 James plays with his new puppy, Scamp.



Later this month, James will have the implants activated, which will enable the child to hear as well as anyone, "except it will be like hearing a TV," his mother said. And soon, the boy will be able to enjoy the sound of his new puppy, Scamp; and the sound of his father's voice when he calls from duty out to sea.


Friday, May 2, 2008
Catalyst Online is published weekly, updated as needed and improved from time to time by the MUSC Office of Public Relations for the faculty, employees and students of the Medical University of South Carolina. Catalyst Online editor, Kim Draughn, can be reached at 792-4107 or by email, catalyst@musc.edu. Editorial copy can be submitted to Catalyst Online and to The Catalyst in print by fax, 792-6723, or by email to catalyst@musc.edu. To place an ad in The Catalyst hardcopy, call Island Publications at 849-1778, ext. 201.