Students recognized for volunteer work




by Cindy Abole




Public Relations


Every day millions of Americans give of their time, talents and energies to make their communities better places to live.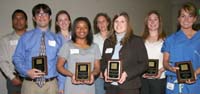 The 2007-08 MUSC Gives Back organizational award winners are Martin Avery, from left, and Matthew Dettmer, Rachel Dascher, Kim Andrews, Rebecca Freeman, Jennifer Bailey, Linnea Freeman and Ashley Owen.



And every day, dozens of MUSC volunteers are out in the Tri-county community helping their neighbors in need and making a difference in many lives by choosing a path of service to assist others.

Each year since 1995, MUSC has honored and recognized the value of volunteer work in the community with the annual MUSC Gives Back Community Volunteer Awards for Student Organizations and Individuals.

Six student organizations and one universitywide student organization were recently honored with this campuswide recognition. The awards, which annually recognize excellence among student groups and individuals for their volunteer work were announced at the April 16 MUSC Student Leadership and Service Awards Banquet at the Harper Wellness Center gymnasium. This inaugural event jointly celebrated the value of student leadership and community service among MUSC students, faculty and staff.

"There's a benefit to expanding our campuswide student awards and recognition gathering to a larger evening program," said Liz Sheridan, MUSC Gives Back director. "The event gave us a chance to recognize the value of student outreach on a larger scale and acknowledge the work of many talented, committed and com-passionate students. It's also an opportunity for a greater campus audience to realize the impact of student volunteer-ism in our community and its positive affect on people's lives."

The event featured guest speaker MUSC President Ray Greenberg, M.D., Ph.D., who praised students and spoke about the value of servant-leaders in society and especially among emerging health care professionals.

According to Sheridan, some service commitments between MUSC students and Lowcountry community service groups and organizations have created lasting partnerships benefiting their clients and a corps of student volunteers.

"It pleases me to see the sustainability of many class projects such as the Free Harvest Clinic, Winwood Boys Home and other community volunteer partnerships, initiated four or more years ago, continue to receive support by our students and student groups," Sheridan said. "This combined effort enables these organizations to provide direct services to individuals and families who are in need throughout the Lowcountry community."

This year's awards were judged and selected by 11 members of the MUSC Student Government Association Service Committee and coordinated by the MUSC Gives Back office. Pearl Givens, Lynn Anne Chajewski and Amy Leaphart of the Harper Student Center staff reviewed applications from the campuswide category.

The 2007-08 MUSC Gives Back organizational awards are:



College of Dental Medicine—Class of 2010


These 56 dental students combined their efforts to provide 1,050.5 hours of volunteer time. Among their highlights include support of two dental mission trips to Quito, Ecuador, El Triumfo, Honduras and area villages in Panama providing free dental services; Give Kids a Smile Day; Tri-county Special Olympics; ECCO Clinic; 80s Prom (a fundraiser for Smiles for a Lifetime); and various student leadership support. The group also raised $1,000 and collected cell phones for people in third world countries.



Individual award:

Loren "Lori" Cook logged 115 hours in support to Give Kids a Smile Day, Tri-county Special Olympics, St. Matthew Baptist Church Dental Clinic, Our Lady of Mercy Community Outreach, My Sister's Smile, Yul Brynner Head & Neck Cancer and other organizations.



College of Graduate Studies—Graduate Student Association


A total of 30 members of the Graduate Student Association logged more than 421 hours assembling water purification systems for Water Missions International, Ronald McDonald House, Sugar-Free Fall Festival, annual MUSC Holiday Tree Lighting, science fair judging at Academic Magnet High School and help with the John Ancrum SPCA grand opening.



Individual award:

Anan Shunmugavel, recorded 280 hours of volunteer support with People Against Rape.



College of Health Professions—CHP Physical Therapy Class of 2008


This group helped increase awareness of the 7th Annual ALS Hope Race on Isle of Palms where 36 class members participated and 13 individuals also served as committee leaders. The group assisted in the 2007 Cooper River Bridge Kid's Run event.



Individual award:

Lindsay Hunter, a physical therapy student, logged 141 hours with the Down Syndrome Association of the Lowcountry, City of Charleston Department of Recreation, Cooper River Bridge Kid's Run, Tri-County Special Olympics and other organization support.



College of Medicine—Sexual Assault Forensic Examiners (SAFE) Team


A team of medical students joined three nurse examiners as on-call volunteers 24/7 to coordinate emergency care for adult rape victims in the community. The SAFE team students provide 12-hour and 24-hour shift support with nine case managers on the team. Students are trained to take calls and act as case managers along with a volunteer nurse and other team members.



Individual award:

Ashleigh Owen has provided volunteer support for the CARES Clinic and as a SAFE Team member reporting 1,297.5 total hours.



College of Nursing—Student Nursing Association


The Student Nursing Association (SNA) is a pre-professional nursing student organization whose goal is to orient students through leadership and educational opportunities as well as community service. With 150 members, the group was active in a variety of outreach activities, from spending time with residents of the Senior Center; tutoring children at the Pink House, providing meals at the Ronald McDonald House and Ralph F. Johnson VA Hospital's Day Program; and coordinating an onsite eye clinic and other vision services for more than 100 Burns Elementary School students. Additionally, SNA members hosted a test review for first semester nursing students.



Individual award:

Last year's College of Nursing individual winner Cathy Mulloy, a BSN/MSN student, recorded about 180 hours of volunteer hours in 2007 working with various community organizations: Ronald McDonald House, MUSC CARES Clinic, Wellness Center Employee, Hospice of Charleston, East Cooper Medical Center, and the Ralph H. Johnson VA Medical Center. Mulloy, a nursing master's student, has logged 468.5 cumulative hours through the MUSC Gives Back program.



College of Pharmacy—American Pharmacy Association Academy of Students of Pharmacy (APhA-ASP)


The 146 members of APhA-ASP were committed volunteers with many activities including the Cooper River Bridge Run, MUSC Sugar-free Fall Festival, and Harvest Free Medical Clinic of Charleston. The group also assisted in the role of pharmacists and helped fill and dispense medications and counsel patients for MLK Jr. Day, provided patient education and diabetes management at Fraser Elementary School and assisted with a blood drive.



Individual award:

Kevin Curler volunteered 57 total hours with the Trident United Way's Big Brother/Sister program.



Universitywide—CARES Clinic


The medical student-initiated and managed non-profit clinic has provided free medical care to the Lowcountry's underserved and uninsured population for three years. The clinic shares space with MUSC's Department of Family Medicine and East Cooper Community Outreach Center. The organization is managed in an interprofessional environment that combines the skills of students from medicine, pharmacy and health professions.

In 2008, about 224 student volunteers recorded 2,028 hours working with physician volunteers and faculty from the colleges of Health Professions, Medicine and Pharmacy. The clinic provides basic medical care, blood tests, refers patients for needed X-rays and imaging tests and other services three times a week.


Friday, May 2, 2008
Catalyst Online is published weekly, updated as needed and improved from time to time by the MUSC Office of Public Relations for the faculty, employees and students of the Medical University of South Carolina. Catalyst Online editor, Kim Draughn, can be reached at 792-4107 or by email, catalyst@musc.edu. Editorial copy can be submitted to Catalyst Online and to The Catalyst in print by fax, 792-6723, or by email to catalyst@musc.edu. To place an ad in The Catalyst hardcopy, call Island Publications at 849-1778, ext. 201.