Customized caps help children with cancer




by Dick Peterson




Special to The Catalyst


Not too far from where Sue Wattie and Shelley Wolford turn otherwise nondescript ball caps and visors into colorful beribboned and bowed creations, children endure the cure for a cancer they don't understand.

They don't understand why chemotherapy that's supposed to make them well makes them feel sick. But they do know about the fun of picking out a cap that looks like no other, one that's just for them and no one else. And it feels good on when there's no hair there.

The entrepreneurial duo decided in January to follow through on a business idea—decorate plain, unadorned caps and turn them into individualized headgear to sell at house parties.

Then came what Wattie calls her "Ahah!" moment.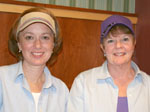 Sue Wattie and Shelley Wolford wear their sassy visors. Wattie and Wolford design hats and visors for children with cancer.



"We started doing decorated caps and all of a sudden over the holidays while I was donating some baked goods to the Ronald McDonald House, and it just went Bing!" She said she called Wolford and asked, "Are you sitting down?"

The idea: "What we do is make adults' and children's caps and visors, and sell them for $20 apiece. And for that you also get a donated cap in your name to MUSC's Children's Hematology and Oncology Clinic. We call it Caring Caps."

At first Wattie and Wolford were just making the caps for fun—neighbors and golfing buddies looking for something better than what they saw in the pro shops and sports stores. "There's not much out there for women, just men's hats refitted for women," Wolford said, "with nothing on them but golf course logos, nothing really sassy."

In a quest for "sassy," they decorated ball caps and visors in adult and children's sizes in a variety of colors with ribbon designs including breast cancer awareness, golf, tennis, ballet, soccer, baseball, football, rosebuds, ladybugs and more, plus "sassy"—there's that word again—stripes and prints.

Calling it an exciting aspect of their venture, Wattie and Wolford take special pleasure in decorating the caps destined for children in treatment for cancer. Every cap is different and each comes with a tag attached for the person buying it to write a message to the child receiving it.

"Our friends have been so supportive," Wolford said. "What's been so nice is that everybody we talk to about it, and tell them what we're doing, and they hear about the MUSC connection, they have really enabled us to make the sales we have and donate to the children."

In the few months Wattie and Wolford have been decorating caps and visors, they sold enough to donate more than 90 caps to the children and their siblings who often come with them for their treatments.

"And the children just love them," said the clinic's clinical coordinator Katie Vriezen. "The caps are so adorable." She said that chemotherapy treatments are hard for the children and for their parents. The offer to search through the box for the perfect cap helps to make the clinic a little special for them.

She said that when they begin to lose their hair, they become self conscious of how they look, and they just don't feel good. To see them smile as they put on a brightly decorated cap means a lot to their parents.

Vriezen laughs as she tells about one 4-year-old girl who wears her outsized cap everywhere. "It comes down over her ears, but she won't take it off. She just loves it."

It took some digging to find a way to donate the caps, Wattie said, but once they were directed to Vriezen, "Katie embraced the idea from the very beginning. She's the one who made it possible for us to get the caps to the children," Wolford said. "She is just so excited about it."

Wattie and Wolford have begun to shift marketing strategies from house parties—"We have only so many friends," Wolford said—to approaching owners of small shops and businesses in the Mount Pleasant area to see if any would be willing to sell the caps on consignment. "We're leaving them at stores," Wattie said, "so if anyone buys one, they can put their message in it with whatever they want to say."

"We've had some people just give us donations," Wolford said. Wattie added that some of the stores refuse to take anything for the sale, making it possible for Caring Caps to give more to children at the clinic.

The MUSC Children's Hematology Oncology Clinic is just over the Arthur Ravenel Jr. Bridge, not too far from Wattie's Mount Pleasant home where she and Wolford decorate caps. Not too far, but brought so much closer now by caring.

Friends of Caring Caps
Caps can be purchased in Mount Pleasant at the following locations: Calico Closet, The Clothes Horse, TEACH, Clements Ferry Barber, Café Lola, Stacks Coastal Kitchen and Tapio School of Dance. On Daniel Island, caps can be purchased at Doodelbugs and Qwik Pack & Ship



Friday, May 30, 2008
Catalyst Online is published weekly, updated as needed and improved from time to time by the MUSC Office of Public Relations for the faculty, employees and students of the Medical University of South Carolina. Catalyst Online editor, Kim Draughn, can be reached at 792-4107 or by email, catalyst@musc.edu. Editorial copy can be submitted to Catalyst Online and to The Catalyst in print by fax, 792-6723, or by email to catalyst@musc.edu. To place an ad in The Catalyst hardcopy, call Island Publications at 849-1778, ext. 201.