Critical care areas work to decrease VAP rates




by Lisa Langdale and Rebecca Weil


As the medical center focuses on reducing infection rates across all aspects of clinical care, the success in reducing infection from ventilator assistance is particularly noteworthy.

The decrease in infections also has resulted in fewer days in the hospital, which helps cut the cost of medical care for patients. Of particular concern is ventilator associated pneumonia (VAP), an often fatal complication in long-term ventilator assistance therapy.

A study conducted by the Hospital Acquired Complications (HAC) committee revealed that VAP has decreased by more than 80 percent during the past two years in MICU alone, which in turn has cut the number of inpatient stays by more than five days.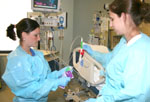 Nurses Alisa Mangano, left, and Sara Speakman replaces the cover of a Yankuer suction catheter. The devise is used

with an intubated patient in the MICU. The covered catheter reduces infection by limiting exposure to contaminated surfaces.



The HAC committee is an interdisciplinary team with members from nursing, respiratory therapy and pharmacy, along with Infection Control (IC), which has assisted the intensive care unit staff in decreasing the overall VAP rate. The overall VAP rate for the institution has decreased from 5.7 episodes of VAP per 1000 ventilator days (for the time period sampled, March 2006 through February 2007) to a rate of 5.2 for the past 12 months. This decrease has been driven by drop in VAP rates for MICU, PICU, NNICU and PCICU.

The success of this project can be directly attributed to the great teamwork provided by all patient care members.

VAP is of particular concern for patients whose injuries or illnesses require intensive care in ICUs. Data indicate that the length of time a patient spends in the ICU can be decreased by preventing hospital acquired complications, such as VAP.

According to the Centers for Disease Control (CDC), VAP infections are directly responsible for increased ventilator days; increased length of stay (LOS) both in the intensive care unit and overall hospital visit; increased cost (average $40,000 per patient); and an increased risk of mortality. Approximately 15 percent of all ventilated patients will develop VAP. Fifty percent of patients who develop VAP will die. In fact, VAP is the leading cause of death from a known hospital acquired complication.

The importance of preventing VAP is recognized by the Institute for Healthcare Improvement (IHI) and its 5 Million Lives Campaign. The IHI was instrumental in the development of a VAP prevention bundle, which was implemented at MUSC in 2005 through participation in the University Health System Consortium (UHC) Commit to Action VAP Project.

The VAP prevention bundle consists of a complete package of evidence-based interventions that, when implemented for patients on mechanical ventilation, has demonstrated a dramatic reduction in the incidence of VAP. This bundle consists of protocols including: head of the bed elevation to 30 degrees; daily "sedation vacation" and assessment of readiness to wean patient from the ventilator; spontaneous breathing trials; peptic ulcer disease prophylaxis; and oral care such as tooth brushing. (All measures in the bundle must be implemented to decrease the risk of developing VAP.)

Implementation of the bundle required the cooperative efforts of a multi-disciplinary team of physicians, nurses, pharmacy, respiratory therapists, clinical associates and infection control practitioners. In addition, order sets, policies, supplies and bedside practices were changed to ensure the VAP bundle became a standard of care in all of MUSC's critical care units. Currently, the new DDICU in Ashley River Tower (ART) is adopting this bundle into their routine practices.

The Children's Hospital also has formed a multidisciplinary task force chaired by Beth Rhoton, an infection control practitioner; to develop a specific VAP bundle for the pediatric and neonatal patient populations. The VAP bundles for the Children's Hospital ICUs emphasize frequent oral care, safe respiratory therapy practices and monitoring of sedation.

As a routine practice, oral care can reduce VAP by almost 57 percent. MUSC's clinical associates are responsible for delivery of oral care every two hours as well as tooth brushing once every 12 hours. Mouth care is one of the biggest impacts on reducing the VAP rate in NSICU and all staff have committed to improvement. Janet Byrne, MICU nurse manager said the oral care practice continues to evolve according to best practice standards.

Appropriate sedation management also is crucial to the ventilated patient. Use of a daily sedation vacation, or reducing sedation, can help the patient avoid a constant heavily-sedated state and inappropriate use of paralytic agents, both of which can suppress a patient's cough reflex and increase the potential for VAP. Nurses maintain a patient's sedation based upon a sedation score parameter ordered by the patient's physician.

Mechanically ventilated patients should also undergo a daily assessment to determine if ventilator settings can be weaned based on pre-determined criteria. These patients are also at increased risk for gastrointestinal bleeding and should receive stress ulcer prophylaxis (SUP). They also are at risk for thromboembolism and should receive some form of pharmaceutical or mechanical prophylaxis. In response to this need, critical care PharmDs and physicians have collaborated to change order sets to include appropriate SUP and DVT prophylaxis.

Mechanical ventilation also increases patient risk of aspiration. To assist in preventing aspiration, each staff member must maintain the head-of-bed (HOB) elevation at 30 degrees. (Neonates and infants should have the head-of-bed elevated 15 to 30 degrees.) Elevating HOB to at least 30 degrees is associated with at least 26 percent risk reduction of clinically suspected nosocomial pneumonia.

The Infection Control and Prevention Department, which monitors VAP and other infection rates, has taken several steps to improve the identification of VAP. The Respiratory Therapy Department provides a daily listing of patients on the ventilator. Using this list, the ICPs review each patient's CXR reports. If positive findings are found, the ICP looks further for evidence that the patient meets the CDC definition. Respiratory cultures are not a part of the definition. However, the culture findings are noted if VAP criteria are met.

Ongoing education on the VAP bundle is provided by the Infection Control and Prevention Department. General and clinical orientation presentations by IC staff cover the VAP bundle as well as presentations to individual units as needed. The IC staff supports efforts to further reduce VAP risks.


Friday, May 30, 2008
Catalyst Online is published weekly, updated as needed and improved from time to time by the MUSC Office of Public Relations for the faculty, employees and students of the Medical University of South Carolina. Catalyst Online editor, Kim Draughn, can be reached at 792-4107 or by email, catalyst@musc.edu. Editorial copy can be submitted to Catalyst Online and to The Catalyst in print by fax, 792-6723, or by email to catalyst@musc.edu. To place an ad in The Catalyst hardcopy, call Island Publications at 849-1778, ext. 201.