Thank you employees


Medical center employees were all smiles May 22 at the MUHA Employee Appreciation Carnival at the horseshoe.

Each MUHA employee received eight tickets to eat and play during the lunchtime event. Dietary Services served a total of 5,300 grilled hamburgers, hotdogs and fixings at this MUSC Excellence initiative event. Participants enjoyed the festival-like atmosphere with Karaoke and music played by a disc jockey, games and activities including a football toss, soccer kick, basketball, golf putting, paint spin activity and cash cube giveaway. Employees also traded their tickets for carnival snacks like kettle corn and boiled peanuts.

The activity was sponsored by the MUSC/MUHA Excellence Reward & Recognition Team.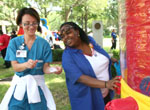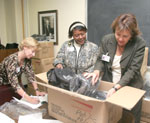 Left photo: Employees dance the Electric Slide as part of the May 22 MUHA Employee Carnival festivities. Right photo: University Human Resources Management's Gale O'Neal, from left, and Monique Robinson distribute lunch bags to Public Relations' Sharlene Atkins. The university and medical center human resources management offices distribute 10,000 bags to employees during the week of May 5 in recognition of Employee Appreciation.
Friday, May 30, 2008
Catalyst Online is published weekly, updated as needed and improved from time to time by the MUSC Office of Public Relations for the faculty, employees and students of the Medical University of South Carolina. Catalyst Online editor, Kim Draughn, can be reached at 792-4107 or by email, catalyst@musc.edu. Editorial copy can be submitted to Catalyst Online and to The Catalyst in print by fax, 792-6723, or by email to catalyst@musc.edu. To place an ad in The Catalyst hardcopy, call Island Publications at 849-1778, ext. 201.