Inaugural Dragon Boat Festival a splash




by Mary Helen Yarborough




Public Relations


The inaugural Dragon Boat Festival held Saturday, May 3 in Charleston exceeded all expectations, according to festival organizers and MUSC participants.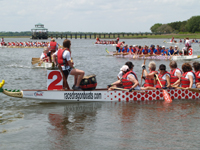 Dragon boats race for a space during Dragon Boat Festival, May 3.



The event featured 47 teams of 21 people, including four teams from MUSC, and raised more than $66,000 for Hollings Cancer Center survivorship programs. (The goal had been to attract up to 30 teams and about $25,000.)

The daylong event at Brittle Bank Park on the Ashley River was described as "a huge success," said Sterling Hannah, HCC community services manager who was responsible for bringing the event here.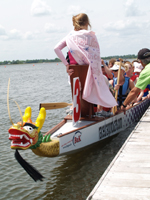 Elisabeth Kilroy, daughter of registered nurse Julie Moser, helps direct HCC's dragon boat.



Each of the 50 teams that registered for the race paid between $800 and $850 per boat, depending on whether they were nonprofit or corporate sponsors.

Dragon boat racing is a competitive sport that is growing in popularity worldwide. "Paddlers do not have to possess any greater skill or athletic ability other than the ability to work as part of a team," Hannah said. "Dragon boat competitors come in all shapes, sizes, ages, and we have an entire team made only of cancer survivors."

Families, friends and competitors gathered under bright, warm skies around colorfully- decorated tents and enjoyed hotdogs, burgers and the colorful boats.

"This is the first of many dragon boat festivals we can expect to come to Charleston," Hannah said. "We learned a lot from this first event. And despite the winds, current and a few other hiccups, we could not have imagined a better launch or introduction of dragon boat racing to Charleston."

The future of dragon boat racing in the Lowcountry, Hannah said, will rely upon the interest in teambuilding and teamwork for participants. "This is not only good for the body, it does wonders for the mind and soul," Hannah.

All pledges raised by paddlers in the Charleston Dragon Boat Festival will benefit the innovative physical and emotional support programs offered through HCC, including the Mobile Health Unit and Camp Bluebird.



Friday, May 9, 2008
Catalyst Online is published weekly, updated as needed and improved from time to time by the MUSC Office of Public Relations for the faculty, employees and students of the Medical University of South Carolina. Catalyst Online editor, Kim Draughn, can be reached at 792-4107 or by email, catalyst@musc.edu. Editorial copy can be submitted to Catalyst Online and to The Catalyst in print by fax, 792-6723, or by email to catalyst@musc.edu. To place an ad in The Catalyst hardcopy, call Island Publications at 849-1778, ext. 201.