Camp turns challenge into fun therapy




by Mary Helen Yarborough




Public Relations


Seven little children gathered in the College of Health Professions (CHP) last week learning how to do what ordinarily would have been physically impossible—use both of their hands, arms, legs and feet.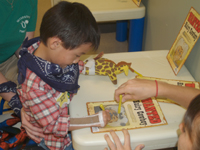 Nathan Jacumin, 4, works with an MUSC occupational therapist during a Western Day at Camp Hand to Hands for children with hemiplegic cerebral palsy. The camp is focused on various activities to strengthen a child's weaker hand or leg. Nathan's splinted left hand is covered with a puppet to encourage him to perform a theme-oriented task with his weaker, right hand.




That might seem simple for most active children, but for this group of children, ages 3 to 6, it's a matter of overcoming a cerebral malady. Despite their racial and cultural diversity, these children share the same challenge posed in having hemiplegic cerebral palsy (HCP).

HCP is a condition caused by a static lesion in the brain that shuts down the use of one side of the body, similar to what many people experience following a stroke. "The good news is that HCP is non-progressive, but loss of muscle tone and motor function typically causes developmental problems," said occupational therapist Patricia Coker, an instructor for the Occupational Therapy Educational Program, in the Department of Rehabilitation Sciences.

At MUSC's Camp Hand to Hands, these children actually have fun as part of learning how to use legs, arms and hands through constraint-induced movement therapy. Constraint-induced therapy isolates or immobilizes the dominant or working hand so that the patient is forced to use the weaker hand or foot. It was developed in the 1980s to help stroke survivors regain use of impaired limbs. Researchers at the University of Alabama at Birmingham (UAB) applied this type of stroke therapy to children with hemiplegic cerebral palsy, which affects one-fourth of all children with cerebral palsy.

The UAB model, considered the benchmark, Coker said, involves a 21-day, one-on-one regimen between the therapist and child at a cost of about $16,000. It is the nation's largest program for children with HCP. The problem is that it's time-consuming and cost-prohibitive for most parents.

Coker adapted the UAB model, by reducing the overall time while maintaining the basic elements of constraint including massed practice and shaping of more mature motor movements.

Camp Hand to Hands incorporates a unique therapeutic approach first created in 2001 by physical therapist Lisa Saladin, Ph.D., interim chair, Department of Rehabilitation Sciences; and occupational therapist Michelle Woodbury, Ph.D., adjunct assistant professor of occupational therapy.

Under faculty supervision, occupational and physical therapy students serve as camp counselors, making it part of the their clinical training. Only seven children at a time are enrolled in the camp allowing a staffing ratio of two students per camper. The students design activities to encourage social interaction and motor skills during individual and group playtime.

"What we did was take the UAB model and put children in a camp in which they work with each other," Coker said. "Through camp, the children are intrinsically motivated, taping into their inner drive to play and succeed."

Currently, the camp is offered at no cost to families and is funded through a $1,500 grant from the Coastal Community Foundation, as well as a $39,000 internal grant from MUSC's Department of Rehabilitation Sciences. The camp is an Internal Review Board-approved, two-year study, and an article on the effects of this modified constraint-induced movement program is currently under review.

The camp takes place in CHP's research building on President Street where children are first assessed in the motion analysis laboratory.

The camp is designed and equipped to include interactive, practical child-learning tools, which carry themes such as Western Day, Jungle Day or Pirate Day to engage children's interest. They play theme-oriented games and activities along with performing skill-building activities.

"The activities are set up to encourage the child to use the weaker arm or leg in order to strengthen motor responses and skills," Coker said. "The constraint we use is a puppet-covered splint, which is incorporated into the overall camp theme."

The children, who are seen every six months after camp, show significant, enduring gains in motor skills and posture, Coker said. For example, children are better able to kick a ball, ride a tricycle, and dress themselves with improved use of their weaker arm or leg.

"We have seen these children improve posture, symmetry, balance and adaptive function," Coker said.

Since it began, Camp Hand to Hands has treated 50 children, making it the nation's second largest program behind UAB's. The MUSC program also is becoming increasingly replicated by treatment centers including those at the University of North Carolina, Shriner's Hospital and the Myers Center for Children in Greenville, the University of Michigan, and Kennedy Krieger, which is part of Johns Hopkins University.


Friday, May 9, 2008
Catalyst Online is published weekly, updated as needed and improved from time to time by the MUSC Office of Public Relations for the faculty, employees and students of the Medical University of South Carolina. Catalyst Online editor, Kim Draughn, can be reached at 792-4107 or by email, catalyst@musc.edu. Editorial copy can be submitted to Catalyst Online and to The Catalyst in print by fax, 792-6723, or by email to catalyst@musc.edu. To place an ad in The Catalyst hardcopy, call Island Publications at 849-1778, ext. 201.