Meet...Sheldon
Name:
Sheldon Bates.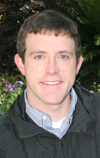 College:
Dental Medicine. Incoming Student Government Association president.
Countries you have lived i
n:

Ecuador, Germany, Italy and Canada.
What did you want to be when you were a child:

Pyrotechnics expert.
First thing you notice about people:

Their smile and teeth.
Hobby:

I refinish furniture.
Last book read:

Humility by Andrew Murray.
An unforgetable memory:

Senior breakfast with my friends the morning of Wofford's graduation.
Something important life has taught you:

We have been created as relational people. Therefore, relationships are important and we must develop and cherish them.
Toughest challenge you have had to face this year:

Deciding on a church to join.
Favorite way to unwind:

Sleeping in a hammock (weather and mosquitoes permitting).
Favorite Charleston restaurant:

McCrady's.
Accomplishment which you are most proud of:

Receiving the Algernon Sydney Sullivan Award (Excellence of Character and Humanitarianism Service.
Something people don't know about you:

I prefer face-to-face ingenuous interaction rather than e-mail or telephone.
Friday, May 9, 2008
Catalyst Online is published weekly, updated as needed and improved from time to time by the MUSC Office of Public Relations for the faculty, employees and students of the Medical University of South Carolina. Catalyst Online editor, Kim Draughn, can be reached at 792-4107 or by email, catalyst@musc.edu. Editorial copy can be submitted to Catalyst Online and to The Catalyst in print by fax, 792-6723, or by email to catalyst@musc.edu. To place an ad in The Catalyst hardcopy, call Island Publications at 849-1778, ext. 201.