MUSC, University of Virgin Islands sign agreement

Members of the University of the Virgin Islands (UVI) and MUSC administration signed an agreement of cooperation April 28.

The collaboration is intended to promote teaching, research and public service in biomedical sciences, including programs in marine health research and public health. The agreement establishes several priorities for collaboration, with emphasis placed on a faculty exchange program, an improved understanding of economic, cultural and social environments, interactions in residency and clinical training programs and research, and program development to reduce health disparities.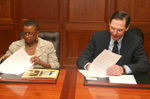 UVI President Dr. LaVerne Ragster and MUSC President Dr. Ray Greenberg sign an agreement of cooperation April 28 at MUSC.





Both universities face similar health challenges in their respective regions and populations. The institutions plan to address those problems through faculty, administrative and student based efforts. President Ray Greenberg, M.D., Ph.D., said during the signing ceremony that MUSC and UVI are specially poised to help one another because of so many commonalities, and expressed his excitement over the new collaboration. UVI President LaVerne Ragster, Ph.D., praised MUSC for its cautious and considerate approaches to international collaboration with other entities. U. S. Representative Donna M. Christensen congratulated both institutions for their commitment to working together.

The first joint undertaking between the universities will occur with a health disparities conference slated for early December in the Virgin Islands. The conference will focus on health disparities in the territory and offer policy and program recommendations for reducing these disparities.



Friday, May 9, 2008
Catalyst Online is published weekly, updated as needed and improved from time to time by the MUSC Office of Public Relations for the faculty, employees and students of the Medical University of South Carolina. Catalyst Online editor, Kim Draughn, can be reached at 792-4107 or by email, catalyst@musc.edu. Editorial copy can be submitted to Catalyst Online and to The Catalyst in print by fax, 792-6723, or by email to catalyst@musc.edu. To place an ad in The Catalyst hardcopy, call Island Publications at 849-1778, ext. 201.