Forces unite to research, treat traumatic brain injury




by Mary Helen Yarborough




Public Relations


Understanding how the brain reacts to traumatic injury will help researchers in the new Force Protection Center for Brain Research at MUSC develop treatment and better engineering for armored military vehicles and other protections for American military and allied personnel deployed in wars.

The center, located at 30 Bee St., could become the core of a national imaging network through which brain injury information from around the country would be stored and analyzed, said Layton McCurdy, M.D., MUSC Dean Emeritus. McCurdy and Vanessa Hill, development officer for the Department of Psychiatry and Behavioral Development, were responsible for recruiting Force Protection to partner with MUSC on the center.

Announced June 4, the center was established through a partnership with Ladson-based-Force Protection, a defense contractor that engineers vehicles that reduce the impacts of roadside bombs. Force Protection has committed $5 million in funding for research equipment, office space, faculty, and employees for the center and related research activities.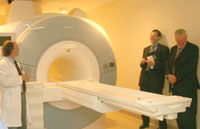 Dr. George explains how the scanner works to MUSC President Ray Greenberg and visitors June 4.



Force Protection's support enabled MUSC to acquire a special Siemens MRI scanner to conduct research on brain injuries. The technology and research will be used to improve treatment of people suffering from traumatic brain injury (TBI), notably American and allied soldiers wounded in the Afghan and Iraqi wars. The $1.5 million Siemens scanner will enable researchers to see details of the brain as it is being imaged.

MUSC also will work with the Ralph H. Johnson Veterans Affairs Medical Center, which unfortunately has a steady stream of wounded soldiers suffering from TBI, McCurdy said.

"MUSC and the VA are kind of joined at the hip, so there will be a lot of collaboration with the VA," McCurdy said. The center will begin performing studies in about a month, and its research will look at various implications of war, including post traumatic stress disorder (PTSD), as well as TBI, McCurdy said.

"Some symptoms of PTSD and TBI mimic each other—lethargy, confusion, headaches, etc.," said McCurdy, also an MUSC professor of psychiatry. "Technology used in this center will compare brain scans of patients with PTSD and TBI to better understand the appropriate diagnosis. Many people suffering from PTSD may actually be suffering from TBI and vice versa. We would be able to further investigate conditions such as these and spot changes in the brain and see exactly where the difference is."

TBI is also called the "silent epidemic," because the signs are subtle and many people suffering from brain injury may live for years without realizing it. Besides injuries from battle, TBI also results from car crashes, bicycle accidents, and sports. The center would research these and other forms of TBI, said McCurdy.

"While TBI will not be the exclusive purpose of the center, it will be a major focus for our research," said Mark George, M.D., current director of the MUSC research imaging center and a Distinguished Professor of Psychiatry, Radiology and Neurology.

George described research that would use a phantom, or clear plastic model head, which would be filled with material similar in density to the brain and then scanned in the MRI scanner. The phantom will be shocked in various intensities and methods and then scanned again with the MRI to measure damage or changes similar to those that happen in human brains following trauma. Force Protection will then use these phantoms in testing new methods of making protective vehicles, in order to choose the design that best minimizes TBI.

The research MRI scanner has twice the field strength as a conventional MRI, and uses multi-channels that enable scans to be viewed real time like an EEG, George said. "We can actually look at the brain as we are imaging it," George said.

Force Protection will use the center's research in future design, development and manufacture of life saving survivability solutions, predominantly ballistic- and blast-protected wheeled vehicles currently deployed to support armed forces and security personnel in conflict zones. Because the center also will receive federal funding to research all causes of TBI, such as automobile accidents, Force Protection plans to share the research with automakers, said George.

"Some things are too important not to share," said George, echoing an old Mercedes commercial. "Combining the medical research expertise of the university and the engineering expertise of our corporate sponsors will result in best-in-class service and treatment of the many men and women who have suffered devastating brain injuries in the line of duty," said MUSC President Ray Greenberg, M.D., Ph.D. Greenberg also said the partnership with Force Protection exemplifies how MUSC's relationship with the private sector helps establish a knowledge-based economy, which is critical in making Charleston a world-class research and development center.

"We are bringing the great people, resources and skills of MUSC and Force Protection together," said Michael Moody, Force Protection president and CEO. "We aim to innovate and develop additional survivability solutions that will provide our men and women in uniform with the best possible protection."



Friday, June 13, 2008
Catalyst Online is published weekly, updated as needed and improved from time to time by the MUSC Office of Public Relations for the faculty, employees and students of the Medical University of South Carolina. Catalyst Online editor, Kim Draughn, can be reached at 792-4107 or by email, catalyst@musc.edu. Editorial copy can be submitted to Catalyst Online and to The Catalyst in print by fax, 792-6723, or by email to catalyst@musc.edu. To place an ad in The Catalyst hardcopy, call Island Publications at 849-1778, ext. 201.