Meet...Dolly
Name:

Dolly Hope.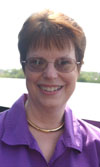 Department: Pathology and Laboratory Medicine.
How long at MUSC:

5 years.
If you could change careers, what would you be doing:

Running a casino in Laughlin, Nev.
How do you stay fit:

The divorce diet is fabulous. I didn't eat for a month and lost 80 pounds. So then I went to the gym.
Something people don't know about you:

I worked in the travel office for the Department of Treasury under James Baker III; and if I had not sent him to Germany, we would not have had Black Tuesday (Oct. 19, 1987). He went to have a secret meeting with then Germany's chancellor Helmut Kohl to sell his idea of how to head off a stock market crash stemming from a collapse in Japan. Kohl didn't buy it.
How do you feel about a hurricane being named after you:

My mom would say, 'fools' names and fools' faces are often seen in public places." She wouldn't have approved of my name being everywhere, but I say go for it. Actually, I was a hurricane awhile ago but I petered out before I got going anywhere. I said "darn."
What quality of a hurricane/tropical storm describes you:

Volatile.
Friday, June 13, 2008
Catalyst Online is published weekly, updated as needed and improved from time to time by the MUSC Office of Public Relations for the faculty, employees and students of the Medical University of South Carolina. Catalyst Online editor, Kim Draughn, can be reached at 792-4107 or by email, catalyst@musc.edu. Editorial copy can be submitted to Catalyst Online and to The Catalyst in print by fax, 792-6723, or by email to catalyst@musc.edu. To place an ad in The Catalyst hardcopy, call Island Publications at 849-1778, ext. 201.