Network to ensure optimal patient care


In learning how to perform patient care procedures, the old adage has always been "see one, do one" for health care students. With the opening of the MUSC Healthcare Simulation Center at the MUSC College of Nursing, the new student mantra might be, "see one, practice one, do one."

The MUSC Healthcare Simulation Center is part of a statewide network of simulation centers called Healthcare Simulation South Carolina, and is under the umbrella of Health Sciences South Carolina (HSSC).

Directed by international simulation expert John Schaefer, M.D., endowed chair in patient simulation education and research, and championed by MUSC College of Nursing Dean Gail Stuart, Ph.D., R.N., the center offers the future of interprofessional health care education and training to promote greater efficiency and patient safety.

"This new center and collaborative network puts South Carolina at the forefront of health-care simulation internationally," Schaefer said. "The use of health-care simulation for educational and patient safety training is very similar to its use in other high risk, high cost industries like aviation and the military. This resource will be broadly used by a range of physicians, nurses, students and EMT's. We are very excited to bring this to South Carolina."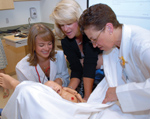 Coordinator of the MUSC Nurse Midwifery Program Leonora Horton, right, assists during a simulation of a birth during the MUSC Healthcare Simulation Center dedication

and opening ceremony June 10.



The 11,000 square-foot center houses more than $900,000 in sophisticated simulation technology, including more than 50 advanced adult and infant simulators. The simulators are used to provide clinical training to nursing, medical and allied health students as well as continuing education for practicing health care professionals. MUSC's center includes machines that simulate giving birth, an emergency room with four different patients (including trauma), cardiopulmonary resuscitation, an operating room environment, heart attacks and more. The center marks the second opening of seven planned centers including Charleston, Greenville (open), Beaufort, Clemson, Spartanburg and Columbia (one of two open).

As South Carolina's aging population continues to grow, the demand for more health-care services illuminates a critical need to have an adequate number of skilled and compassionate health care providers who can perform safely and efficiently in a real-world setting. The new MUSC Healthcare Simulation Center allows students to practice their clinical skills in a controlled, risk-free environment, rather than in an actual patient care setting.

"Simulation opens new opportunities for us in health care," Stuart said. "Not only can we educate nurses and other health-care providers more effectively and more efficiently, but we also can explore the impact of emerging technologies, improve interactions among health- care team members, and prepare our students for a world in which technology is an essential element of practice. This is all about better health care outcomes for patients, and our simulation center brings the cutting edge of professional education to MUSC."

Specifically, as nurses become increasingly responsible for a larger share of patient care and much of which is extremely technology-intensive, the MUSC Healthcare Simulation Center creates an environment where they can learn these critical skills while optimizing patient safety. Beginning nurses and other health-care professionals can now make their most common, most dangerous, and most preventable mistakes on a simulated patient, where the worst possible outcome is to try again. Today's technology enables the health- care community to learn in a safe, guided environment as simulated patients replace real ones in the early parts of education.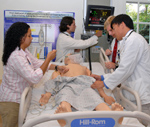 Fourth-year College of Medicine students Jennifer Matos, Ben Thomas, Matt Crumpler and Young Choi work on "Mrs. Jones," a mannequin in a simulated emergency room.



In addition, MUSC President Ray Greenberg, M.D., Ph.D., noted the center will continue to foster interprofessional opportunities for student learning. "One of the most exciting aspects of the simulation lab is that it provides an environment for our students, residents and faculty to work across traditional disciplinary boundaries. Here, doctors and nurses and pharmacists, and therapists can be trained about how to function together effectively," he said. "Health care is a team sport, and the simulation lab is the practice field for honing our skills at collaboration."


Friday, June 13, 2008
Catalyst Online is published weekly, updated as needed and improved from time to time by the MUSC Office of Public Relations for the faculty, employees and students of the Medical University of South Carolina. Catalyst Online editor, Kim Draughn, can be reached at 792-4107 or by email, catalyst@musc.edu. Editorial copy can be submitted to Catalyst Online and to The Catalyst in print by fax, 792-6723, or by email to catalyst@musc.edu. To place an ad in The Catalyst hardcopy, call Island Publications at 849-1778, ext. 201.