Students gain access to microscopy advances, time with MUSC expert


Students from across North America participated in the second Charleston microscopic workshop that featured the latest in light microscopic technology and equipment provided by more than a dozen vendors.

Students also worked with one of the nation's leading experts in biological imaging, John J. Lemasters, M.D.,Ph.D., who established the prestigious event at MUSC after being recruited away from the University of North Carolina, Chapel Hill, in 2006.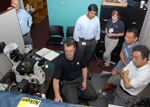 Students from across North America participate in the microscopic workshop held May 18 - 23 in the S.C College of Pharmacy, MUSC campus.



The Light Microscopy for the Biosciences, held May 18 - 23, provided theoretical and hands-on training in advance techniques of optical microscopy with emphasis on fluorescence microscopy, confocal microscopy and multiphoton microscopy, said Lemasters, S.C. Centers of Centers of Economic Excellence Endowed Chair in Advanced Technologies.

"We had 23 students from institutions as far north as Canada and Boston, as far west as Washington State, as far south as Florida, as well as students from MUSC attend the workshop," said Lemasters, a professor with dual appointments in the Department of Pharmaceutical and Biomedical Sciences in the South Carolina College of Pharmacy and the Department of Biochemistry and Molecular Biology in the College of Medicine.

Lemasters has worked 35 years in biological imaging, during which he has become an expert on confocal/multiphoton microscopy, digitized video microscopy and transmission, scanning and freeze-fracture electron microscopy.

Lemasters was recruited to MUSC to fulfill the need of Hollings Cancer Center investigators for advanced capabilities in biological imaging.

Lemasters has a longstanding commitment to teaching microscopy, which is essential to the effective utilization of this technology by biomedical scientists.

While at the University of North Carolina, Lemasters, along with other faculty members, gave the first workshop on light microscopy in 1993, this intensive one-week course was held approximately every other year through 2002.

After his move to MUSC, Lemasters resumed this course, which was renamed the "Charleston Workshop on Light Microscopy for the Biosciences," and first held June 3-8, 2007 at MUSC with sponsorship by the HCC.

These courses are an integral component of the training efforts of the HCC Shared Resource center of which Lemasters is the scientific director.


Friday, June 13, 2008
Catalyst Online is published weekly, updated as needed and improved from time to time by the MUSC Office of Public Relations for the faculty, employees and students of the Medical University of South Carolina. Catalyst Online editor, Kim Draughn, can be reached at 792-4107 or by email, catalyst@musc.edu. Editorial copy can be submitted to Catalyst Online and to The Catalyst in print by fax, 792-6723, or by email to catalyst@musc.edu. To place an ad in The Catalyst hardcopy, call Island Publications at 849-1778, ext. 201.