All-in-one tool to stop spread of disease




by Mary Helen Yarborough




Public Relations


The campaign against the spread of infectious disease has gotten a boost from an all-in-one tool piloted by the Ambulatory Care Education Resource Committee's Infection Control Taskforce.

The Health and Hygiene Center that is displayed in Ambulatory Care waiting areas is a plastic unit containing several key elements necessary to promote hygiene: hand sanitizing gel, a box of facial tissue, surgical masks, and quick-reference educational materials.

Taskforce chair Carolyn Cavanaugh, R.N., piloted the unit during a two-week period in February by displaying the unit in patient waiting areas on the first, second and fourth floors of the Storm Eye Institute.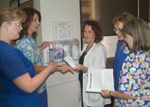 Infection Control Taskforce members registered nurses Lynn Dorris, from left, Jodie Powell, Carolyn Cavanaugh, Cindy Fitzgerald and Sallie O'Brien discuss the various components of the new hand hygiene unit.



To test response and use of the center components by patients, registration staff handed patients at sign-in a survey form that also explained the importance of infection control. Response to the survey was significant, supplies in the unit were tracked for patient use, and now Ambulatory Care has adopted the unit as part of a comprehensive approach to control the spread of germs. The units will be mounted on walls and placed in all areas where visitors, patients, employees, students and staff pass, including entrances and waiting areas. A small poster promoting use of the unit will reflect various themes, including "Clean Hands Save Lives," a slogan developed by the Centers of Disease Control and Prevention (CDC).

"My main intent in developing the Health and Hygiene Center project is to make everyone more aware of, and accessible to infection control to keep everyone healthier, including patients, staff, our families, and the community," said Cavanaugh.

Cavanaugh said that when people come to their appointments, they may come in ill, or with a cold. Germs can then be spread to other patients and staff.

The units will be displayed throughout Ambulatory Care reception areas, including those in Rutledge Tower, Hollings Cancer Center, Children's Hospital, Ashley River Tower, and Storm Eye Institute. The goal is to encourage people to use the various infection control tools so that it becomes second-nature.

The Infection Control Task Force team of the Ambulatory Care Education Resource Committee is a relatively new group with a small dedicated team, Cavanaugh said, adding, "The taskforce is very active and committed."

It was formed after nurses Linda Randazzo, manager, Performance Improvement and Staff Development, and Susan Hamner, staff development and educational specialist, saw a need for such an effort and inspired the formation of the taskforce, Cavanaugh said.

The task force members are registered nurses Cindy Fitzgerald, Sallie O'Brien, Lynn Dorris and Jodie Powell, all representing various Ambulatory Care services throughout the medical center.

In addition to developing the all-in-one hygiene centers, the taskforce also has undertaken a number of other initiatives that target prevention of infectious disease.

"As a result of our task force recommendation, pocket guides for infection control precautions are now being given to new hires of Ambulatory Care at orientation," Cavanaugh said. She said the handy, green pocket guides are a CDC product and made available to the taskforce through Linda Formby, R.N., Infection Control manager.

The task force also obtained permission to use an empty glass bulletin board on the first floor of Rutledge Tower to educate the public on infection control through posted information.

Taskforce member Fitzgerald researched and designed the information on hand washing that is currently displayed. Other members will take turns in researching and designing new information for the bulletin boards, Cavanaugh said.

As simple as it may seem, convincing an institution the size of the medical center to adopt a relatively inexpensive infection control device is not a minor undertaking. Fitzgerald credits Cavanaugh's leadership in making a proven disease control tool available to thousands of people by gaining the support of Ambulatory Care administration.

"She wanted to implement change—change in the culture and the way people think and respond to infection control," Fitzgerald said. "Carolyn is a strong clinical leader whose clarity of vision and creative, innovative thinking has resulted in important programs and an intact organizational relationship. She has excellent communication skills that help empower staff to make us aware of our own attitudes."



Friday, June 20, 2008
Catalyst Online is published weekly, updated as needed and improved from time to time by the MUSC Office of Public Relations for the faculty, employees and students of the Medical University of South Carolina. Catalyst Online editor, Kim Draughn, can be reached at 792-4107 or by email, catalyst@musc.edu. Editorial copy can be submitted to Catalyst Online and to The Catalyst in print by fax, 792-6723, or by email to catalyst@musc.edu. To place an ad in The Catalyst hardcopy, call Island Publications at 849-1778, ext. 201.