An MUSC hero
Advocate recognized for HCC contributions




by Cindy Abole




Public Relations


Hollings Cancer Center's (HCC) Brenda Nickerson has forged a career focused on service and improving the health of others.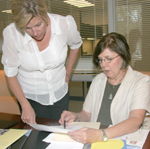 HCC's Brenda Nickerson and Vicky Agnew, director of Strategic Communications, discuss details of a new HCC Prevention and Control Program brochure.



For almost 30 years, the Joanna native has devoted her career specializing in health disparities, cancer care, prevention and patient education by supporting South Carolina patients and their families. On June 30, she will retire from what is already considered a stellar career in public health and patient care.

Recruited from the South Carolina Department of Health and Environmental Control (DHEC) in 2000, Nickerson came to MUSC to help HCC get on track for
National Cancer Institute (NCI) designation, plus other projects that have improved clinical and research activities for cancer patients. In late September, evaluators are scheduled to conduct a formal sight visit as part of the rigorous NCI designation process.

Meanwhile, Nickerson's presence in the Lowcountry was likely by design. A public health nurse and researcher, Nickerson served as director in DHEC's Cancer Prevention and Control Division and Chronic Disease Prevention and Control Branch areas. She's been recognized for reducing tobacco-related malignancies in the Palmetto state and helped advance women's health issues in South Carolina by managing the State-Aid Cancer Clinics Program and developing the Best Chance Network, a breast and cervical cancer screening program for South Carolina's underserved women. She also helped with important state legislation that established a reporting structure for cancer cases through the South Carolina Cancer Registry.

While at MUSC, Nickerson shared her vast experience and skills by contributing to statewide cancer initiatives including the South Carolina Cancer Surveillance Committee, Cancer Control Advisory Committee and the South Carolina Cancer Alliance (SCCA) serving on the group's steering, finance and policy committees, governing council and advocacy task force.

Since 2006, Nickerson served as administrator for Hollings' Cancer Prevention and Control Program and Cancer Disparities Program. Throughout that time, she's guided cancer survivor programs and managed HCC community outreach efforts including the re-establishment of HCC's Mobile Health Unit, a state-of-the-art 40-foot vehicle equipped to conduct cancer screenings, prevention education, early detection and health counseling to medically underserved populations.

In 2003, she served as interim HCC administrator while the center searched for new leadership with the recruitment of Andrew Kraft, M.D., as director in 2004 and Anita L. Harrison, an associate administrator in 2005.

"I've worked closely with Brenda on many things including managing the cancer center," said Kraft. "The most impressive thing about Brenda is that she is a caring individual who is genuinely concerned about Hollings Cancer Center patients and wants to improve their lives. She's especially dedicated to South Carolina's underserved population and helping them to understand the disease process. She's wholeheartedly committed to them and their needs."

Nickerson also was instrumental in HCC's major expansion project and seven-story tower addition in 2005, which added more than 200,000 square feet of much-needed clinical space, research and education/administrative space to the facility.

"I can describe Brenda as a real can-do person," said Carolyn Reed, M.D., chief of general thoracic surgery, Alice Ruth Reeves Folk Chair of Clinical Oncology. "She was instrumental in the center being awarded the planning grant and was actively involved in the NCI application process. She's a hard worker and consummate team player who was there when we were struggling. She was a positive force in building the cancer center and for the people of South Carolina."

Deborah C. Bryant, R.N., director of outreach services, was hired by Nickerson in 2005 to work with the HCC Mobile Health Unit and HCC Breast Health Patient Navigation Program.

"Brenda has been a great mentor to me," Bryant said. "She's helped nurture and foster my career. I honestly don't think I would have achieved the success I've experienced without her help. Not only was she my boss, but she also is my friend. Although her retirement will be a great loss to me, I look forward to working with her in a volunteer capacity. I wish her success."

On May 16, Nickerson was honored for her leadership in early detection and received one of six 2008 SCCA Excellence awards. She was recognized for her commitment with the patient navigation program at the organization's annual meeting in Columbia.

"Brenda has accomplished many great things throughout her career," said Tony Alberg, Ph.D., associate director of HCC's Cancer Prevention and Control and Blatt-Ness Chair in Oncology. "She possesses a great deal of spirit and grace in her work that inspires others in everything she's accomplished. She has been vital to the HCC's development."

"The South Carolina Cancer Alliance was proud to honor Brenda Nickerson with the SCCA Excellence Award in Early Detection," said Laura Stuckey, executive director, SC Cancer Alliance. "Her outstanding contributions in cancer control will live on for decades to come, through the many programs she developed and also by the future efforts of the leaders she mentored."

Now living in Meggett with husband, John, Nickerson hopes to stay committed to HCC patients and staff. She wants to continue working or volunteering one day a week at the cancer center and hopes to return to caring for patients with diabetes and providing help with these patients' needs in retirement.


Friday, June 20, 2008
Catalyst Online is published weekly, updated as needed and improved from time to time by the MUSC Office of Public Relations for the faculty, employees and students of the Medical University of South Carolina. Catalyst Online editor, Kim Draughn, can be reached at 792-4107 or by email, catalyst@musc.edu. Editorial copy can be submitted to Catalyst Online and to The Catalyst in print by fax, 792-6723, or by email to catalyst@musc.edu. To place an ad in The Catalyst hardcopy, call Island Publications at 849-1778, ext. 201.