CAE writer pens award-winning short story




by Cindy Abole




Public Relations


The self-proclaimed "good girl gone rebel" has turned her memories of high school into an award-winning short story.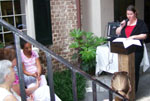 Dr. Lisa Kerr reads her story during Piccolo Spoleto.



Lisa Kerr, Ph.D., an instructor at MUSC's Writing Center and Center for Academic Excellence (CAE), was named the winner of the 2008 Piccolo Spoleto Fiction Open sponsored by the City of Charleston Office of Cultural Affairs. Kerr won for her short story, "Bird's-Eye View," a piece about high school, teen relationships and coming of age.

Kerr's piece was selected best of four other winning stories out of more than 150 statewide entries in this year's competition. The other 2008 winners included Wilma Reitz, Greenville; Debra Daniel, Columbia; Audra Brown, Summerville and Charlie Geer, Charleston.

Kerr received an $800 Total Design Freedom publishing package to BookSurge, a print-on-demand publishing group, which she can use to publish this and other stories.

On May 31, Kerr performed a reading of excerpts from her winning story as part of a Piccolo Spoleto Fiction Open Reading held at Blue Bicycle Books in downtown Charleston. Event sponsors included Blue Bicycle Books, Dark Sky Magazine and Iodine Literary projects.

"This has been a wonderful surprise," said Kerr, a writer and former English teacher. Kerr received her doctorate in American Literature from the University of South Carolina. She first learned about the competition on a poster she saw at Blue Bicycle Books. "Anytime I can write something that I'm interested in, I go for it," she said.

Recently, she helped coordinate the Healthcare and the Humanities course elective offered through CAE. The 12-week program uses literature, theater, music and art to study storytelling as part of health care. The course explores the value of medical narratives as a way for health care students to share and communicate their health care experiences.

An avid reader and writer, Kerr already is decorated with writing awards. She won her first award at age 17 and first place, which earned her $6,000 and a cover story for Guidepost Young Writers' Scholarship. Kerr's recent awards include the 2007 Zelda and Paul Gitlin Literary Prize from the Thomas Wolfe Society; 2007 finalist in the SC Poetry Initiative's Chapbook Contest; 2006 winner of the SC Fiction Project sponsored by the Post and Courier; 2004 finalist, SC Poetry Initiative's Single Poem Contest; 2002 first place winner, Thomas Wolfe Student Essay Contest; 1996 fellow, Ramsaur Fellowship for Writing (USC).

Kerr arrived at her story's premise by focusing on the competition's theme on endings. She focused on her idea about adolescence and high school, reflecting on her own growth and transitions during that period in life.

"Everything is inspired by something that one sees or hears," Kerr said. Describing herself as a "good girl gone rebel" who attended Bishop England High School in the 1980s, she said, "High school was such an important time for me. There was so much transition. It was both an intimidating and exciting time because a lot of us craved interactions with new, different people."

Kerr lists F. Scott Fitgerald, Thomas Wolfe and Tom Perrotta as her literary heroes, and she hopes to channel her interest of high school life and transition to a collection of young adult short stories. And like all writers, she's working on different projects, including her goal to write and publish her first novel.

"I've had wonderful success as a writer and am happy at what I do," Kerr said "Everything I publish I love and am excited to have worked on. I want to encourage others to go for it and keep putting their stories and writings out there for others to read and enjoy," Kerr said.

Visit http://www.darkskymagazine.com/2008/06/01/birds-eye-view/.


Friday, June 27, 2008
Catalyst Online is published weekly, updated as needed and improved from time to time by the MUSC Office of Public Relations for the faculty, employees and students of the Medical University of South Carolina. Catalyst Online editor, Kim Draughn, can be reached at 792-4107 or by email, catalyst@musc.edu. Editorial copy can be submitted to Catalyst Online and to The Catalyst in print by fax, 792-6723, or by email to catalyst@musc.edu. To place an ad in The Catalyst hardcopy, call Island Publications at 849-1778, ext. 201.