Nursing camp inspires youth




by Alex Jackson




Public Relations


Even though summer generally provides a break from school and work, it's a time when some career-minded youth can focus on future career choices such as health care.

For a dozen rising ninth-graders, it was a time to participate in job exploration and hands-on training at the Nursing Your Career Summer Nursing Camp.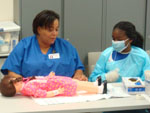 Registered nurse Kim Harris-Eaton demonstrates a dressing change to a nursing camp participant.



During the three-day camp that began June 10, students shadowed nurses in many areas of the hospital, including Labor and Delivery, an intensive care unit, and the Endoscopy unit in the Digestive Disease Center (DDC). MUSC partnered with the Charleston County School District (CCSD) School-to-Careers program to provide opportunities for young people to learn about careers in health care.

They watched educational videos, learned how to properly treat trauma victims, and through MUSC's Community Training Center, the teenagers became certified in cardiopulmonary resuscitation (CPR).

Kaitlin McCormick, 14, especially enjoyed CPR training. "This has been a great experience," she said.

Many students learned about the camp from school guidance counselors and some from their parents who work here.

In addition to learning about nursing, these potential health professionals learned about teamwork and character building; and how learning math and science in school is an essential element of health care professions.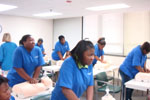 Nursing Your Career Summer Nursing Camp students practice CPR on adult-size mannequins. The camp teaches important life-saving techniques and gives students career exploration opportunities.



The nursing camp gives students a chance to explore different areas of the health care environment. Inspiring them now is important to the future of a reliable health care industry.

"It's fabulous to see youth who are interested in health careers," said Yvonne Martin, R.N., MUSC's nurse retention and community outreach coordinator.

Along with Martin, Jodi Bateman of the CCSD School-to-Careers program, Shelby Gist, Nicole Mullinax Bernier, Tammy Rapp, and Lynn Campbell devoted many hours to the high school students during camp. As a result, "It's possible that these students will become the next generation of nurses, which will help decrease the nationwide nursing shortage," Martin said.

Students also learned that being in health care also involves understanding how technology aids in patient care.

Christian Porcher, 14, who visited the DDC and the Intensive Care Unit (ICU), found the ICU interesting because of the medical equipment used in treating the patients.

"Christian loves people and loves caring for people, especially in our family," said Annette Daniels, Christian's grandmother. "I hope this program will provide good experiences to help her decide her future. I figured if they start young and think about their opportunities, they'll be encouraged and motivated to stay focused on their goals."

Receiving the proper education builds a foundation for students as they discover career opportunities, Bateman said. Additionally, support by school teachers, counselors and family members provides motivation for students to reach their full potential.

Trianna Washington, 14, has wanted to be a nurse since she was 5. She has been drawn to nursing because her mother and sister are nurses. Trianna expressed hopes of becoming a nurse in Obstetrics-Gynecology. "This was a great adventure," she said.

At its conclusion, camp coordinators received positive feedback from the campers, their parents, and the hospital staff, and during the closing ceremony, students were awarded certificates and stethoscopes.

Many of the students expressed interest in becoming volunteers in various health care settings to continue their learning experience when school resumes.




Friday, June 27, 2008
Catalyst Online is published weekly, updated as needed and improved from time to time by the MUSC Office of Public Relations for the faculty, employees and students of the Medical University of South Carolina. Catalyst Online editor, Kim Draughn, can be reached at 792-4107 or by email, catalyst@musc.edu. Editorial copy can be submitted to Catalyst Online and to The Catalyst in print by fax, 792-6723, or by email to catalyst@musc.edu. To place an ad in The Catalyst hardcopy, call Island Publications at 849-1778, ext. 201.