Scholarship strengthens medical recruitment




by Cindy Abole




Public Relations


Since his arrival at MUSC in 2001 as College of Medicine dean, Jerry Reves, M.D., has shared a long-held commitment to enhancing diversity among faculty, staff and the student body within the college and throughout campus.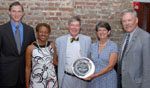 Dr. Jerry and Jenny Reves, center, receives a commemorative plate from Dr. Ray Greenberg, left, Dr. Deborah Deas and Dr. John Feussner June 4.



Reves, vice president for medical affairs, has been a champion of cultural and ethnic diversity issues, as his career has exemplified. His philosophy is that a diverse college makes a strong and more creative one.

In honor of his dedication to diversity, MUSC leadership gathered on June 4 at the Rice Mill Building to recognize Reves with the establishment of the Jerry and Jenny Reves Diversity Scholarship Endowment. Both are graduates of MUSC, Jenny with the College of Health Professions and Jerry, the College of Medicine.

This effort, resulting from collaboration between University Medical Associates (UMA) and the College of Medicine's clinical departments, help raised a total of $2,165,000 to support students. UMA initiated the fund by pledging $1 million. The clinical faculty depart-ments matched and surpassed the initial pledge by contributing an additional $1.2 million.

"The medical faculty is tremendously grateful and most appreciative for the excellence of your inspirational and visionary leadership," said John Feussner, M.D., UMA president, professor and chairman of the Department of Medicine, in a presentation speech. "This action is a reflection on the quality of your leadership, the chairpersons and faculty who've stepped up to the plate and made this fundraising effort happen so quickly and easily. It has been a great privilege, indeed, to be able to serve the medical university as one of your chairs."

In March 2007, the dean was honored for his efforts and received the university's Earl B. Higgins Diversity Award. Reves and Deborah Deas, M.D., co-associate dean for admissions in the college, were recognized for developing a collegewide diversity plan and other efforts to increase the recruitment of underrepresented groups among faculty and students, plus strengthen student retention rates within the college.

"From the beginning, Dr. Reves recognized the overwhelming need to diversify the College of Medicine and the university and he was determined to lead the way," said Deas. "He systematically enlisted the College of Medicine diversity committee and department chairs and integrated diversity into the fabric of the college and the results are unprecedented. Additionally, he did not limit the focus to increase the number of underrepresented individuals in the College of Medicine, but also focused on creating a welcoming environment where individuals feel valued."

In 2001, the College of Medicine's underrepresented students accounted for 10 percent of the college's student body. Today minorities comprise about 19 percent of a diverse student body. Likewise, the dean led the college in 2001 to more than doubling underrepresented minority representation from 23 to 58 individuals in medicine faculty today. Underrepresented residents and fellows also increased more than threefold within the past seven years from 16 to 59 members in this category in 2008. The number of female faculty also increased from 270 in 2001 to 361 this year, and the percentage of female medical students has risen from 42 percent to 48 percent during that time. Currently, there are 554 residents, of which 214 are female.

"The fact that college leaders and UMA have set aside your treasury for the recruitment of minorities will allow us to improve our quality through diversity and demonstrates with deeds, rather than plans or talk, the determination and commitment you have to this important goal in the college," said Reves. "Led by Dr. Deas we have all made major progress, and these funds enable us to do more."

"I am thrilled that the faculty of the College of Medicine have chosen to honor Dean and Mrs. Reves for their extraordinary leadership," said MUSC President Ray Greenberg, M.D., Ph.D. "They have chosen to do it in a way that is very meaningful to the Reves and to the Medical University, by supporting academic excellence through an endowed chair and diversity through scholarship support. There could not be a more perfect way to recognize Dean and Mrs. Reves' contributions in both areas."

Last fall, the Reveses made a planned gift to the college supporting the Dr. John Cathcart Endowed Scholarship Fund. The fund was established in 2002 in memory of MUSC alumnus and Jenny's father, Dr. John W. Cathcart II, by the couple and Cathcart's widow, Margaret C. Cathcart. The fund supports two four-year, merit-based scholarships awarded to deserving medical students, one of them being a minority student.

"The Jenny and Jerry Reves Diversity Scholarship Endowment will enable the College of Medicine's Office of Admission to continue to recruit some of the best and brightest underrepresented students in medicine to MUSC," Deas said. "This scholarship will, in part, begin to address some of the health care disparities issues by increasing the health care workforce. I am so glad that UMA, under the superb leadership of Dr. Jack Feussner, had the foresight and vision to create this legacy on behalf of Dr. Reves. Dr. Reves will always be remembered as an agent of change and a champion for diversity."


Friday, June 27, 2008
Catalyst Online is published weekly, updated as needed and improved from time to time by the MUSC Office of Public Relations for the faculty, employees and students of the Medical University of South Carolina. Catalyst Online editor, Kim Draughn, can be reached at 792-4107 or by email, catalyst@musc.edu. Editorial copy can be submitted to Catalyst Online and to The Catalyst in print by fax, 792-6723, or by email to catalyst@musc.edu. To place an ad in The Catalyst hardcopy, call Island Publications at 849-1778, ext. 201.