China, MUSC look for joint opportunities


As MUSC continues to reach out to its international counterparts for research and education opportunities, a faculty delegation led by Dr. Ding Yitao, president of the Nanjing Drum Tower Hospital in China has visited the MUSC campus in an effort to further explore collaboration between the two entities.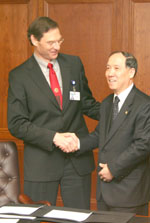 MUSC President Dr. Ray Greenberg greets Dr. Ding Yitao before signing an agreement with Nanjing Drum Tower Hospital.



MUSC has a historic relationship with Ding's institution. MUSC College of Medicine alumni, John Bradley, M.D., began the sister institution more than 100 years ago as a missionary in the Chinese town of Suquian. Following a visit last fall by College of Medicine dean emeritus Layton McCurdy, M.D., Ding's delegation came to renew the institutions' relationship and discuss mutual interests regarding joint educational and research opportunities.

Ding is considered the pioneer of liver transplant surgery in China, and serves as the director of the Department of Hepatobiliary Surgery. He was appointed president of Nanjing Drum Tower Hospital in 1996 and serves as the 20th president of the hospital. A native of Nanjing, and scion of the noted Nanjing Ding Family of physicians and medical professionals, Ding also serves as chairman of the Nanjing Drum Tower Hospital Group, which includes six hospitals. McCurdy's relationship began with the Chinese hospital when he and his wife visited in October 2007.

Peter Kalivas, Ph.D., Department of Neurosciences research chair and Distinguished University Professor, holds an honorary faculty appointment as a professor of neuroscience with the Nanjing Medical University, which is affiliated with the hospital. He also has visited MUSC's sister hospital facility and will help expand the collaborative relationship between MUSC and the Nanjing Drum Tower Hospital into the academic environment of Nanjing Medical University.


Friday, June 6, 2008
Catalyst Online is published weekly, updated as needed and improved from time to time by the MUSC Office of Public Relations for the faculty, employees and students of the Medical University of South Carolina. Catalyst Online editor, Kim Draughn, can be reached at 792-4107 or by email, catalyst@musc.edu. Editorial copy can be submitted to Catalyst Online and to The Catalyst in print by fax, 792-6723, or by email to catalyst@musc.edu. To place an ad in The Catalyst hardcopy, call Island Publications at 849-1778, ext. 201.