Craniofacial clinic uses team approach




by Mary Helen Yarborough




Public Relations


Until recently, when a baby was born with a cleft lip and palate, a pall cast over the delivery room where the new mother's joy sank to sadness. Doctors and nurses, especially in smaller hospitals, have felt unable to provide necessary care for these new patients and would quickly transport the newborn to MUSC.

"The immediate problem is that the newborn has to be fed," said speech pathologist Katy Hufnagle, an expert in diagnosis and management of children with cleft palate and other craniofacial anomalies. "A baby with a cleft palate is unable to generate a strong suck, because the cleft in the palate prevents the normal division between the mouth and the nose that results in the negative pressure that is required for sucking. Simply stated, it is much like sucking from a straw with a hole in the side. So, babies with cleft palates are not normally successfully breastfed, but mothers are always encouraged to secure a good breast pump so that they can avail their infants with all of the benefits of breast milk."

With a bit of parent training, the right equipment, and a little patience, babies with cleft palates nurture easily and grow well.

MUSC has a long history of caring for children with cleft lip and/or palate, and their families. In 1996, a plastic surgeon with training in the surgical management of children with cranial anomalies joined MUSC. Richard Kline, M.D., working with pediatric neurosurgeons, provided the scope of practice that allowed the existing Cleft Palate Team to become recognized by the American Cleft Palate/Craniofacial Anomalies Association as a Cleft Palate and Craniofacial Anomalies Team.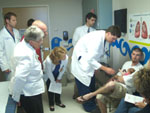 Dr. David White checks the baby daughter of Lester Cobb for progress of her cleft condition with part of the team members.



Today, the MUSC multi-disciplinary expert team, directed by Carlos Salinas, DMD, comprises specialists in plastic surgery, orthodontics, oral maxillofacial surgery; otolaryngology (ear, nose and throat), audiology, neurosurgery, prosthodontics, ophthalmology, pediatric dentistry, genetics ,and speech pathology. "The MUSC Craniofacial and Cleft Palate team is very comprehensive and interdisciplinary, and has exceeded the requirements of the American Craniofacial and Cleft Palate Association guidelines for these types of clinics," said Salinas.

A 22-year MUSC veteran, Hufnagle has seen parents' apprehension over caring for a child with cleft palate evaporate as early detection and counseling better prepare them, and their physicians to deal with the complexities of craniofacial anomalies.

By the 12th week of gestation, the face and mouth are being formed. During this time the lip and palate closure may be interrupted, Hufnagle said.

Ultrasound can often detect a cleft lip early in a pregnancy. The existence of a cleft of the palate is more difficult to diagnose prenatally, Hufnagle explained.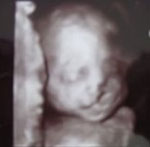 An ultrasound image shows a 20-week-old fetus with cleft lip.



Early in the pregnancy, parents may know that their baby will be born with a cleft lip and, very possible, a cleft palate. This is when the MUSC team kicks into action.

"We get to know these families during the prenatal phase," said Hufnagle, whose expertise is in feeding newborns with craniofacial anomalies. "These families are referred to us by the MUSC Pre-Natal Wellness Center genetic counselors or by OB/GYNs, and we educate them, train them, and provide them with the tools and resources to feed their baby in a way that is nurturing and rewarding."

The entire family is part of the training and counseling process so that parents and siblings all are assured, comfortable, prepared, and all myths are eliminated. The families are now connected with the craniofacial team prior to the birth of their baby, and they have available resources for any questions or concerns that may arise, Hufnagle said.

"Now, we don't see a lot of these babies being helicoptered down to MUSC, because when the baby is born, the mother has the knowledge and the equipment for feeding her new baby," Hufnagle said.

These babies also face far fewer surgeries than children with cleft palates underwent in years past.

"You'll hear some adults who have cleft lip and palate say they had to undergo 20 surgeries," Hufnagle said. "Now, it's not a lot of surgeries; maybe three to five. By the time the child is 21, a little bit of dental fine-tuning may be all that remains."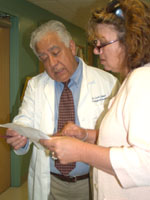 Dr. Carlos Salinas and Sherry Cannon review the patients and doctors schedule.



Salinas said the first surgery may occur at 3 months, but by 12 months the palate and the lip are closed. Certain procedures are not completed until the child reaches puberty or maturity, so that surgery does not interfere with a person's growth and development.

While no specific gene or chromosome has been identified as causing cleft palate, the potential for clefting exists in anyone regardless of their family history. Environmental factors, including drugs taken by a pregnant mother may cause clefting. A family history normally indicates likelihood for having a child with cleft palate. Still, parents with a history of cleft palate may also increase the risk of giving birth to an infant with a cleft lip and/or palate, Salinas said.

Chris and Shelley Talbott of Johns Island learned two months ago that the baby she is carrying will likely be born with a cleft palate. Until now, neither of them knew of any family members with a cleft lip or palate. "However, we just recently learned that a cousin on my wife's father's side has a cleft palate," said Chris Talbott, who has two other small children who were born without the facial anomaly.

Talbott said that when they learned that their third child might be born with a cleft palate, "We were kind of scared," he said. "But now, we're pretty confident after talking to Katy Hufnagle and learning that there will be a good outcome."

Parents like the Talbotts, or the Cobb family from Florence whose baby girl has a cleft lip, also feel more confident that their children will grow up with little to no signs, in either appearance or in the sound of their voices, that they had cleft palate. This is because of the focused approach taken by each member of the craniofacial team, each of whom commit their time gratis to these families.

During clinic, each patient is seen by different specialists. By day's end, the team holds a case conference in which each patient is discussed in detail and a treatment consensus is reached, Salinas said. "We also have opportunities to examine patients with more complex problems, for example clefting with associated malformations, or cases with genetic syndromes; or cases with malformations of the skull. It is here, again, when the interdisciplinary team provides the added value."

Patients and parents are provided with a diagnosis and appropriate treatment plan; and the parents receive genetic counseling to explain the cause and natural history of the disorder and to elucidate the risks of it occurring again. All of the information and recommendations from the team visit are compiled in a report and sent to the family and primary care physician.

"This is the paradigm example of a multidisciplinary clinic," Kline said.

For more information, contact Sherry Cannon, clinical coordinator, cannonss@musc.edu; 792-3251.


Friday, June 6, 2008
Catalyst Online is published weekly, updated as needed and improved from time to time by the MUSC Office of Public Relations for the faculty, employees and students of the Medical University of South Carolina. Catalyst Online editor, Kim Draughn, can be reached at 792-4107 or by email, catalyst@musc.edu. Editorial copy can be submitted to Catalyst Online and to The Catalyst in print by fax, 792-6723, or by email to catalyst@musc.edu. To place an ad in The Catalyst hardcopy, call Island Publications at 849-1778, ext. 201.