Mental health fun walk raises money, awareness




by Bryan Counts




Institute of Psychiatry


Thank you MUSC fun runners, walkers and supporters for making the 4th Annual Mental Health Month Fun Run/Walk a success.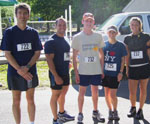 The top runners are Joseph Reynold, Dustin Ford, Sebastin Simstich, Jamie Laska and Anne Lohse. Not pictured is MUSC's Mary Mauldin.



The Charleston Area National Alliance on Mental Illness (NAMI), the Institute of Psychiatry and supporting partners held the annual event on May 17 at Hampton Park.

This 5K Fun Run & Walk was organized to recognize May as National Mental Health Month, increase mental health awareness, and reduce stigma.

More than 175 mental health professionals, consumers, family members and friends from the community participated in the day. Proceeds from the event totaled more than $2,500. These donations will benefit NAMI outreach programs of support, education and awareness. Many of these programs are hosted and facilitated by IOP throughout the year.


Friday, June 6, 2008
Catalyst Online is published weekly, updated as needed and improved from time to time by the MUSC Office of Public Relations for the faculty, employees and students of the Medical University of South Carolina. Catalyst Online editor, Kim Draughn, can be reached at 792-4107 or by email, catalyst@musc.edu. Editorial copy can be submitted to Catalyst Online and to The Catalyst in print by fax, 792-6723, or by email to catalyst@musc.edu. To place an ad in The Catalyst hardcopy, call Island Publications at 849-1778, ext. 201.