Robot expands capabilities for operating on children




by Mary Helen Yarborough




Public Relations


A system developed to mend wounded soldiers in remote battlefields now enables surgeons to double their dexterity and perform difficult procedures inside the bodies of small children.

The da Vinci Robotic Surgical System, developed by the U.S. Department of Defense (DOD), was introduced to MUSC in May by Andre Hebra, M.D., chief of the Division of Pediatric Surgery; making MUSC part of an elite group of facilities that use the system. MUSC is one of only about four institutions in North America and the only one in the entire Southeast that uses the robot-assisted surgery on children.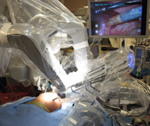 A child undergoes minimally invasive surgery performed with the da Vinci system.



"One of the most important medical-technological achievements of the 20th century has been the development of optical and surgical instruments that set the stage for the advancement of minimally invasive surgical techniques," said Hebra. "The 21st century is witnessing a new revolution in the field of surgery with the introduction of the da Vinci Robotic Surgical System."

Currently, without computer-assisted technology, minimally invasive laparoscopic and thoracoscopic surgery would have limited applications. The da Vinci system improves the ability to expand the applications of minimally invasive surgery to a new level of complexity, Hebra said.

The da Vinci system is a computerized four-arm robot that is entirely controlled by the operating surgeon from a separate console that functions as the command center for the machine.

"We could operate from the control booth here in Charleston on a patient in Alaska," Hebra explained.

The robot arms are capable of holding and manipulating the surgical-laparoscopic camera, fine surgical instruments, and various sources of energy during the operation. It is not a robot in the sense of one you would imagine in the automotive industry assembly line but one that integrates the latest advancements in robotics, computer-enhanced technology and the surgeon's skill. It allows the surgeon to perform delicate and complex laparoscopic and/or thoracoscopic procedures with great precision and superb visualization.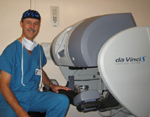 Dr. Andre Hebra performs robotic surgery from this station.



"It gives the surgeon another pair of arms to work with; it's like having four arms working simultaneously," said Hebra, a pioneer in laparoscopic surgery who is among a unique group of surgeons trained to use the da Vinci on children. "One can see with great precision and magnification inside the body, due to the high definition, three-dimensional images projected by the da Vinci system."

Hebra noted that the robot cannot perform any movement or procedure without the surgeon's control and that da Vinci does not replace the surgeon or eliminate the need for a surgeon's skills. The operating surgeon has the ability to control each one of the robot's four arms throughout the operation. Fine and delicate movements performed by the surgeon via the robotic arms and instruments are fully visualized in true 3-D, allowing the surgeon to perform as if he/she was inside the body. The system allows for delivery of highly-precise movements and maneuvers that frequently are superior to what the human hand can accomplish during open surgery. "I call all the shots. It doesn't move unless I move," Hebra said, adding that the device also filters out involuntary movements, such as tremors. "It's a surgical tool, so operating it still requires skills of a surgeon that is familiar with laparoscopic techniques."

The da Vinci robotic system allows surgeons to perform more complex operations that could not be easily accomplished using conventional laparoscopic or thoracoscopic techniques. With more precise control in the surgical field, complications are decreased and outcomes are optimized.

"This new technology will allow surgeons from many other specialties to push-the-envelope of minimally invasive surgery and to develop new indications for robotic intervention. The only limitation is the surgeon's imagination," said Hebra.
Of the four cases performed on children so far here at MUSC, one was a complex rectal resection and "pull-through" procedure for treatment of Hirschsprung's disease on a 5 Kg (11 pounds) infant. "This would be difficult to do with the conventional laparoscopic surgery," Hebra said.

Hebra has five years experience working with the da Vinci and he is very enthusiastic about the incorporation of robotic technology by MUSC surgical specialists.

Hebra, who returned to MUSC last year after having left in 2001, developed new robotic applications for pediatric patients while he was director and lead surgeon for the center of Robotic & Minimally Invasive Pediatric Surgery at All Children's Hospital in St. Petersburg, Fla. "One of my goals in coming back to MUSC was to bring robotics not only to pediatrics, but to all surgical specialty areas," Hebra said.

In response, MUSC invested more than $1 million to acquire the da Vinci system.

"The beauty of this new robotic system is that it allows surgeons to do so many different and innovative procedures. It's also important that a major academic center like MUSC is able to expose residents and students to this new technology," Hebra said.

Because operating the da Vinci requires unique surgical skills, surgeons are required to participate in a special training program with proctorship before they can start utilizing the system during surgery. Hebra has served as a proctor to other specialists learning to use the robot. Robotic surgical assistants, which could be a surgeon or physician's assistant, also require special training. The surgical assistants and operating room nurses must also be trained on how to utilize the robot at the patient's bedside in the operating room. Special credentialing requirements have been developed at MUSC to meet the needs of this new technology. At the present time, Lisa Roberge, Hebra's physician assistant, is the only first assistant trained for robotic surgery, and Hebra is the only surgeon trained to perform da Vinci procedures. "We have identified a great group of nurses in the operating room that have dedicated a significant amount of their time to learning and working with da Vinci. It has been a great pleasure to work with this incredibly enthusiastic group of nurses," Hebra said.

The application of robotic technology is poised to grow here at MUSC. Urologists and gynecologists are already scheduled to undergo training in robotic surgery. Other surgical specialists such as cardiothoracic, transplant, thyroid, and plastic surgeons have expressed an interest in robotics. Because setting up and using da Vinci is time-consuming and expensive, it is not recommended in all surgeries. For example, it would never be used in an emergency situation or for conventional laparoscopic cases.

Regarding the future for robot-assisted surgery at MUSC, Hebra said, "No one who looks at the data on minimally invasive surgery objectively can doubt the benefits to adult and pediatric patients. There is no greater advancement in the surgical sciences in recent years than that provided by minimal access surgery.

"This new century should continue to witness exciting advances that will improve our ability to provide surgical care to the unborn fetus, children, and patients of all ages. The modern surgeon must embrace technology and apply it to a new level," Hebra said.

The use of robotic surgical techniques originated from a DOD project that focused on remote field management of wounded soldiers. The project included a plan to develop systems of operating on patients via a computerized-robotic interface. Such systems would allow for remote surgery, in which the operating surgeon would be located at a different site from were the operation was being performed, Hebra explained.

Despite the successful development of a computerized-robotic surgical system, the research sponsored by DOD was abandoned. Fortunately for medicine, it was quickly adapted for clinical use by Intuitive Surgical Corporation and applied to civil use in 1997.



Friday, July 11, 2008
Catalyst Online is published weekly, updated as needed and improved from time to time by the MUSC Office of Public Relations for the faculty, employees and students of the Medical University of South Carolina. Catalyst Online editor, Kim Draughn, can be reached at 792-4107 or by email, catalyst@musc.edu. Editorial copy can be submitted to Catalyst Online and to The Catalyst in print by fax, 792-6723, or by email to catalyst@musc.edu. To place an ad in The Catalyst hardcopy, call Island Publications at 849-1778, ext. 201.