Hollings facility seeks accreditation by NCI




by Robert Behre




Of The Post and Courier


If the Hollings Cancer Center wins recognition as one of the nation's top institutions, then it also will attract more top-notch doctors, more research dollars, clinical trials and prevention programs—and even more spin-off industries.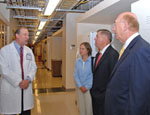 Hollings Cancer Center director Dr. Andrew Kraft, left, guides U.S. Sen. Lindsey Graham, second from right, the National Cancer Institute (NCI) director Dr. John Niederhuber and NCI staff member Anne Lubenow through one of 24 new research lab modules of the HCC facility on July 21. HCC is one of several institutions seeking to achieve NCI cancer center designation. An official review visit is scheduled for mid-September.



Ultimately, it might mean that more Lowcountry cancer patients can get state-of-the-art treatment here instead of having to go somewhere else.

That's why U.S. Sen. Lindsey Graham and National Cancer Institute Director Dr. John Niederhuber spent part of Monday morning touring the newly built center at the heart of MUSC's campus.

Led by Hollings Cancer Center Director Dr. Andrew Kraft, both Graham and Niederhuber looked at laboratories and equipment, saw patient-care areas and even boarded a blue-and-white bus that the center uses to provide free cancer screenings in 12 Lowcountry counties.

Each man wanted something from the other.

Graham wanted Niederhuber to get a close-up look at the Hollings Center, which Graham hopes will become the cancer institute's 64th nationally accredited cancer center early next year — and the first such center in South Carolina or Georgia. Niederhuber won't make that decision, but his familiarity with Hollings' operations won't hurt.

Kraft also wants that designation, as well as the continued support of Graham, whose office already helped funnel $8 million in federal money to build a new research facility. That support is crucial as the center battles the state's No. 2 killer—a disease that claimed the lives of 22,000 South Carolinians last year.
And Niederhuber also wants Graham's support for increasing the overall budget for the National Cancer Institute, a $4.8 billion agency that needs more government funding to create and support more cancer institutes.

"I like to remind everyone that the investment in cancer research over the years has not only contributed to our advances in (fighting) cancer, but it has contributed in major ways of our understanding of almost every disease," Niederhuber said, "so this is an important issue for the people of our country."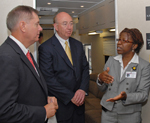 Debbie Bryant, manager of the HCC Breast Health Outreach Program, explains how HCC's innovative Avon Foundation's Breast Health Patient Navigation Program is making a difference to uninsured and low- income women diagnosed with breast cancer in South Carolina.



The high-profile nature of Monday's event was underscored when the center's namesake, former U.S. Sen. Fritz Hollings, joined the group for lunch.

Hollings said the 15-year-old center will be the next to achieve designation as a national cancer center, which would help it receive more grant money and help with its clinical trials. There are currently 63 other centers nationwide, including three in North Carolina.

That application already is in Washington, and a team of scientists is scheduled to visit the Hollings Cancer Center in mid-September.

Its report will be reviewed in December. "Early next year we should have a result," Niederhuber said.

Kraft said the Hollings Center's continued improvement would benefit patients across South Carolina, not just in the Charleston area.

"What we want to be is a secondary resource so that when things get difficult, patients can come here," Kraft said. "The Hollings Cancer Center sees itself in the model of M.D. Anderson (in Houston) or Memorial Sloan Kettering (in New York), only here in Charleston."

Graham said he was pleased to tour the new building and liked what patients told him about their experiences there. "I ran into several patients—and two thumbs-up," he said.

One patient, Joey Ryan, chatted with him briefly on Jonathan Lucas Street after Graham left a screening bus. "She felt she was in good hands," Graham said. "The people who come here come here with confidence that they are going to get the best treatment in South Carolina."

Graham said he supports raising the National Cancer Institute's budget, partly because despite the disease's lethal nature, fighting cancer is considered a niche segment of the health insurance industry and doesn't attract many private research dollars.

"The dividends that we receive are new treatment, new technology, new drugs being developed here in our own backyard," he said. "I lost my mother to this disease. Money can't solve every problem, but this is where money can help."
Editor's note: The article ran July 22 in The Post and Courier and is reprinted with permission.


Friday, July 25, 2008
Catalyst Online is published weekly, updated as needed and improved from time to time by the MUSC Office of Public Relations for the faculty, employees and students of the Medical University of South Carolina. Catalyst Online editor, Kim Draughn, can be reached at 792-4107 or by email, catalyst@musc.edu. Editorial copy can be submitted to Catalyst Online and to The Catalyst in print by fax, 792-6723, or by email to catalyst@musc.edu. To place an ad in The Catalyst hardcopy, call Island Publications at 849-1778, ext. 201.