Meet...Victoria
Name:

Victoria Blount.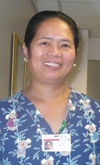 Department: Transplant Center, 6 East.
How long at MUSC:

4 months.
Where were you born:

Philippines.
Why did you move to Charleston:

To work.
What did you want to be when you were young:

A nutritionist.
What was your first job:

A researcher.
If you could change careers, what would you be doing:

Alternative health care.
Favorite TV shows:

Dancing with the Stars and American Idol.
Favorite room in your house:

Study room.
Bad Habit:

Texting.
Person you admire the most:

My husband, Harry.
Something people don't know about you:

I'm funny.
How do you spend your free time:

Walking along the beach in the water.
Historical event you wish you had witnessed:
World War II.
Friday, July 25, 2008
Catalyst Online is published weekly, updated as needed and improved from time to time by the MUSC Office of Public Relations for the faculty, employees and students of the Medical University of South Carolina. Catalyst Online editor, Kim Draughn, can be reached at 792-4107 or by email, catalyst@musc.edu. Editorial copy can be submitted to Catalyst Online and to The Catalyst in print by fax, 792-6723, or by email to catalyst@musc.edu. To place an ad in The Catalyst hardcopy, call Island Publications at 849-1778, ext. 201.