MUSC Excellence at the medical center
MICU nurse receives July DAISY Award


The DAISY (Diseases Attacking the Immune System) Award is given monthly to an MUSC nurse who embodies the efforts and vast knowledge required of a nurse in today's health care system.

Created by the DAISY Foundation to recognize extraordinary nurses throughout the country, the award is co-sponsored by UnitedHealthcare, a UnitedHealth Group company. The foundation was formed in January 2000 by the family of J. Patrick Barnes who died at age 33 of complications of idiopathic thrombocytopenic purpura.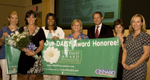 Amy Fratteroli accepts the DAISY Award from Tena Barnes Carraher, right, and Dr. David Boerner. Sharing in the celebration is MICU nurse manager Janet Byrne, second from right, and MICU staff Kathleen O'Neill, from left, Falonda Huffman and Perette Sabatino. The DAISY banner will be displayed in the unit for a month.



All DAISY Award winners receive an African Shona Tribe sculpture titled, "A Healer's Touch," a framed certificate, a daisy bouquet, cinnamon rolls for the staff, and a DAISY Award pin.

The winner for July is Amy Frattaroli, R.N., MICU.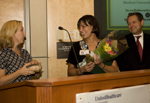 Tena Barnes Carraher, left, representing the DAISY Foundation, shares the story of why cinnamon rolls are part of the DAISY Award to winner registered nurse Amy Fratteroli while Dr. David Boerner, medical director for UnitedHealthcare of the Carolinas, looks on. The award was presented to Fratteroli July 17.



Frattaroli was nominated by a patient's caregiver who had experienced difficulties before coming to MUSC.

The story, nomination reads: "It is hard to begin my story. I am the health care power of attorney for an elderly friend in the community. My agreement with John was that as long as he could make his own decisions, I would just advise him and let him make those decisions. John lost his brother a couple of years ago, and his mother and father prior to that. All John had were his close friends, and plenty of those cared for him. He was admitted to [another hospitals] while I was on vacation and I desperately tried to handle his care from out of the state. When I got back, things went from bad to worse. No physicians were called, even after my pleading with the nurses to take care of him. I would clean him up myself so that he would not have to wait on his caregivers to help him. It was the most horrible experience. John eventually became septic, which was another issue I was trying to bring to their attention, and he was transferred to the ICU without any notification of the family, which would be me. When this happened, I strongly insisted that John be sent to MUSC (MICU). I spoke to medical doctors that were incredible and they accepted him. John arrived at the MICU the next day and was given the once over by the most incredible staff. The hope that they gave us was small, though on Saturday morning we were met with the sweetest face in the world, almost an angel—I take that back—she was. Amy was the kindest, most thoughtful nurse. She took over the situation, seeing the friends and loved ones who were needing her confidence and ICU abilities, and ensuring that John would be loved and cared for. Despite there being so many people, Amy would explain things and wrap her arms around each person to comfort them. The group of John's friends consistently said that she kept John so comfortable, they never saw him struggle, not even once. Amy constantly checked on John and reassured the entire group. As we withdrew treatment on our friend, she cried with us, always concerned that we may need something else and all the while taking care of John. How do you thank someone who has given your friend respect and dignity that had been taken away, and demanded it from others. We will never be able to thank her and tell her how much she meant to all of us. Heaven sent us an angel that day, one that we needed."
—Submitted by Ramona Smith

Past DAISY Award recipients
Amy Williams
Andrea Meaburn
Bobby Navarro
Kris Douglass
Sheila Prynkiecwicz
Beth Lingerfelt
Robin Matutina
Marvetta Daniels
Alisa Mangano
Teresa Kelechi
Mary Lynn Roberts
Alison Meeks
Mira Galang
Leslie Von Lehe
Carrie Alexander
Mary McLendon
Linda Ernst
Leanne Carson
Betsy Englehardt
Kelly Burns
Patty Dobson
Katherine Fairey
Rich Loughran
Diane Miller
Gwen Kearse
Shannon Broach Saladin



Friday, July 25, 2008
Catalyst Online is published weekly, updated as needed and improved from time to time by the MUSC Office of Public Relations for the faculty, employees and students of the Medical University of South Carolina. Catalyst Online editor, Kim Draughn, can be reached at 792-4107 or by email, catalyst@musc.edu. Editorial copy can be submitted to Catalyst Online and to The Catalyst in print by fax, 792-6723, or by email to catalyst@musc.edu. To place an ad in The Catalyst hardcopy, call Island Publications at 849-1778, ext. 201.